| | |
| --- | --- |
| Contacts | |
| Address | 1211, Switzerland, Genève 3 |
| P.O. Box | 3271 |
| Phone | 022 347 90 40 |
Bank Identifiers
BIC (SWIFT)
BGGECHGGXXX
Bank Category
Other banks / Banks that specialise in stock exchange, securities and asset management business
Deposit Guarantee
Yes (up to 100 000 CHF per depositor)
Start Date
1988
Financial Positions
Total Assets

(2013)

107.48 mln CHF

(-20.96%)
Bank Identifiers
Any bank can be identified for different purposes and hence can have several different identifiers.
BIC
BIC (Business Identifier Code) is a the mostly used international identifier of financial institutions. SWIFT is the registration authority for BICs. BICs are used in financial transactions, client and counterparty data bases, compliance documents and many others.
| | |
| --- | --- |
| BIC | BGGECHGGXXX |
| Bank BIC Code | BGGE |
| Country Code | CH (Switzerland) |
| Location Code | GG |
| Branch Code | XXX |
A BIC consists of eight or eleven characters, comprising a financial institution code (four characters), a country code (two characters), a location code (two characters) and, optionally, a branch code (three characters).
Deposit Guarantee
Deposit Guarantee Schemes compensate certain deposits held by depositors of a bank that becomes unable to meet its obligations.
All credit institutions operating in Switzerland are obliged to participate in Swiss deposit guarantee scheme.
In the case of Banque Genevoise de Gestion SA failure, eligible depositors having covered accounts in this bank will be paid out the following compensation:
| | |
| --- | --- |
| Eligible Depositors | private individuals, commercial enterprises and public-sector offices |
| Covered Accounts | credit balances (e.g. personal accounts, savings accounts, investment accounts, salary accounts, numbered accounts, deposit accounts and current accounts) |
| Maximum Protected Amount | 100 000 CHF |
| Paid In Currency | CHF |
Further Information: Deposit Guarantee Scheme in Switzerland
Financial Positions
In 2013 total assets of Banque Genevoise de Gestion SA were 107.48 mln CHF. Decline compared to the previous period (2012) was -20.96%. The evolution of the total assets of Banque Genevoise de Gestion SA is shown at Chart 1 below.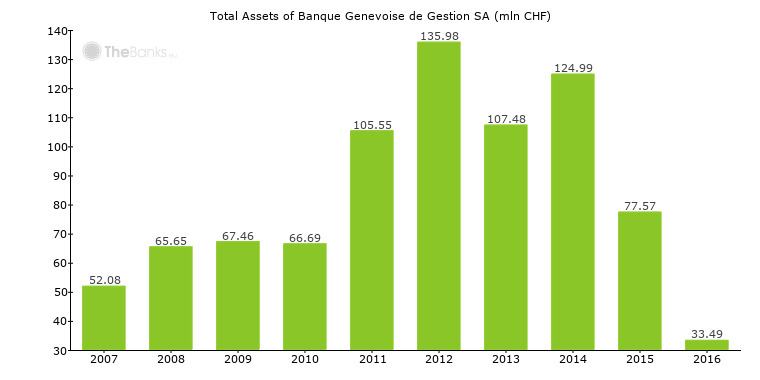 Related Information on Switzerland
Economy and Banking Sector of Switzerland