Banking Sector of the Isle of Man
15 March 2017
Over the recent decades the banking sector of the Isle of Man has evolved from a domestic provider of retail banking products to a well established international banking and finance center covering the areas of retail banking, commercial banking, private and expatriate banking and offering its products and services to a broad range of clients. The Isle of Man enjoys political stability, low taxation and the strength of its fiscal, legislative and regulatory controls.
Banking Sector Structure
Employment in the financial sector on the Isle of Man raised drastically making the financial sector on of the main contributors to the island's GDP and the major employer of the island. In 2011 more than 20% of the island's workforce was working for the financial sector. It should be noted that the economy of the Isle of Man is rather diversifed having apart from the financial sector, clean-tech and energy, e-business and e-gaming, maritime, retail trade and tourism among its main sectors.
The number of banks operating on the Isle of Man has been constantly decreasing in the recent years: the banks have kept surrenderring their banking licences with no new banks having been opened. To attract new banking operations to the Isle of Man, in 2016 the government introduced the 'Alternative Banking Regime' separating deposit-taking licences into 3 types:
Class 1(1) licence allows to accept any retail deposits.
Class 1(2) licence allows to accept non-retail deposit, thus providing services to a very limited class of individuals, and corporates.
Class 1(3) licence is designated for representative offices of foreign banks, not able to take deposits on the Isle of Man.
However, banks operating under the Class 1(2) and Class 1(3) are not obliged to participate in the Deposit Guarantee Scheme of the Isle of Man.
Among 12 banks operating on the Isle of Man, there is only one bank (Conister Bank Limited) with domestic capital, the rest of the banks are foreign-controlled (branches and subsidiaries of foreign banks) with the prevailing number of the banks from the United Kingdom (6).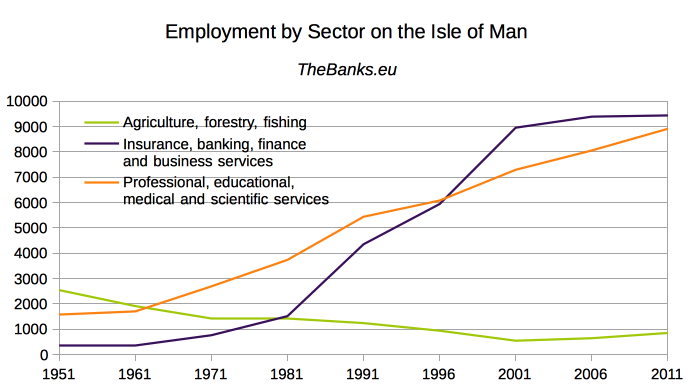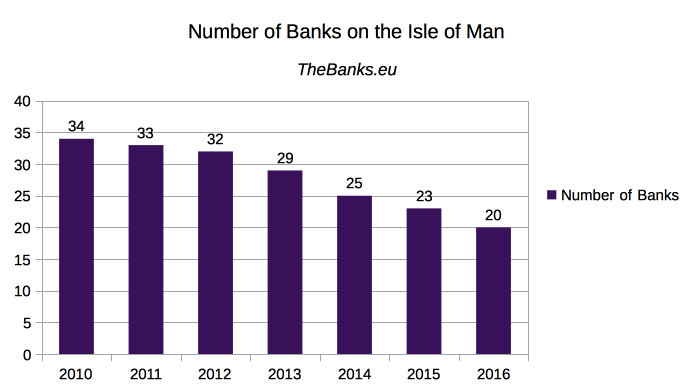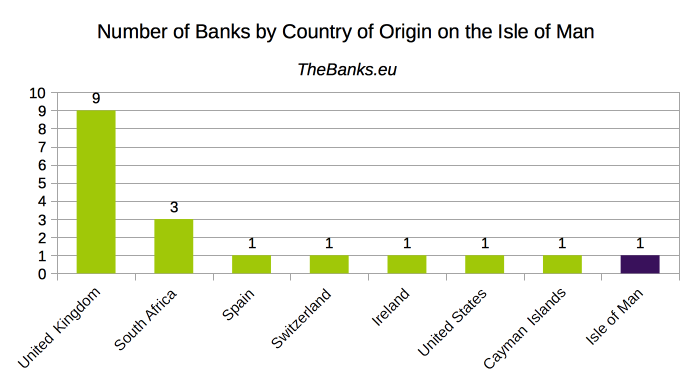 Financial Results
In 2010-2016, consolidated total assets of the Manx' banks have been declining together with the decrease of the bank number. During this period loans due from parent banking groups have been dominating in the loan portfolio of Manx' banks, comprising in 2016 about 85% of total loans and about 70% of total assets.
On the liabilities side, the two main components are retail deposits and corporate, trust and fiduciary deposits, comprising respectively about 35% and 25% of total assets. Due to banks, the third major components of the banks' liabilities comprises about 20% of total assets.
Net interest income is the major source of income generated by the banks incorporated on the Isle of Man, followed by other banking income (including foreign exchange income, fees, commissions and charges) and non-banking income.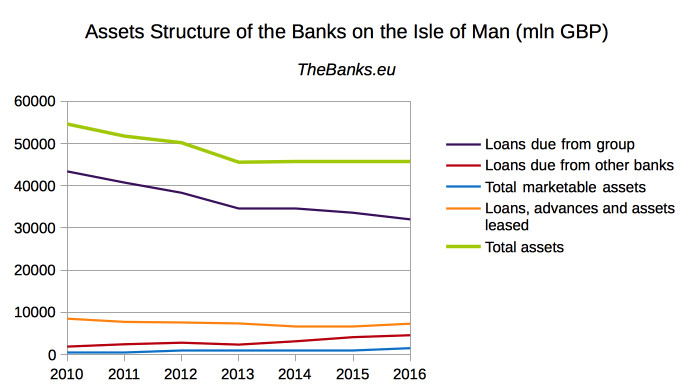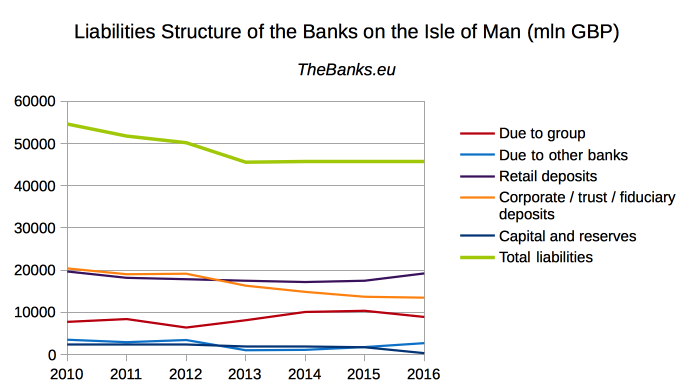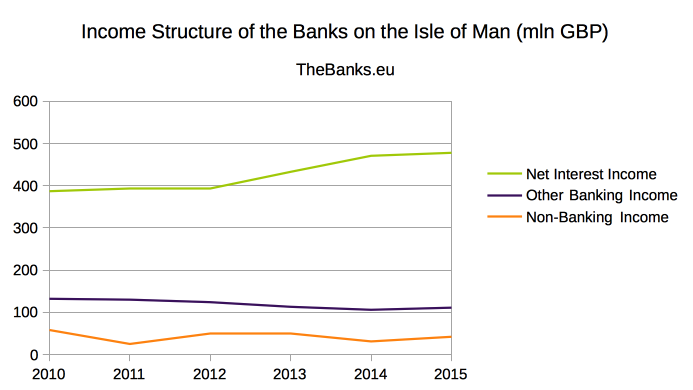 Concerning geographical sources of non-bank deposits, it should be noted that about 1/3 of these deposits come from the United Kingdom entities, followed by the domestic entities (about 1/4). More than a half of the deposits are nominated in British pounds.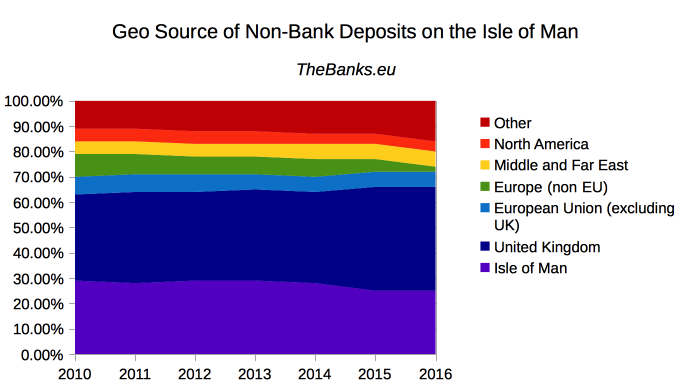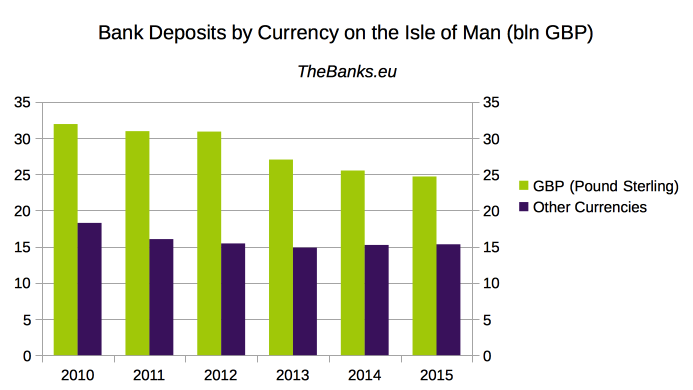 Products and Services
Banks on the Isle of Man provide a broad variety of solutions, including deposits, treasury services, foreign exchange, trust and corporate services, residential mortgages, investment property finance, commercial finance, corporate finance, asset and wealth management, fiduciary services. These solutions as offered to a wide range of clients, including local residents, international clients and expatriates as well as to local SMEs and companies, international corporates, trusts, governments and institutional investors.
Name
Country of Origin
Business Focus
Clients
Barclays Bank PLC
United Kingdom
retail banking
corporate banking
wealth management
local residents
local SMEs
local corporates
offshore corporates
Cayman National Bank & Trust Company (Isle of Man) Limited
Cayman Islands
retail banking
investment management
fiduciary administration
international clients
Conister Bank Limited
Isle of Man
retail banking
corporate banking
local businesses
local personal customers
HSBC Bank Plc
United Kingdom
retail banking
corporate banking
wealth management
local residents
international customers
Isle of Man Bank Limited
United Kingdom
retail banking
private banking
corporate banking
insurance
local businesses
local personal customers
Lloyds Bank International Limited
United Kingdom
retail banking
private banking
business and corporate banking
local residents
local businesses
Nedbank Private Wealth Limited
South Africa
private banking
investment management
fiduciary services
private individuals
non-trading companies
trusts
governments
institutional investors
Santander UK plc
Spain
retail banking
private banking
corporate banking
local residents
UK expats
UK residents
local companies
Standard Bank Isle of Man Limited
South Africa
offshore banking
fiduciary services
asset management
offshore fund management
personal clients
professional clients
corporate clients
The Royal Bank of Scotland International Limited
United Kingdom
offshore banking
personal banking
business banking
corporate banking
treasury services
commercial finance
local residents
local businesses
UK residents
UK expats
business clients
See Also
External Links
Government of the Isle of Man

Isle of Man. Where You Can.