Banks in Estonia
11 May 2016, updated 28 April 2017
Located in Northern Europe, Estonia is one of the Baltic States. Estonia is a developed country with high-income economy. Main industries of Estonian economy are engineering, electronics, wood and wood products, textiles as well as information technology, and telecommunications. Estonian banking and financial system has been developing rapidly since 1991 when Estonia declared its independence from the Soviet Union. Estonian banking sector is relatively small, highly concentrated, with high share of foreign capital. Large banks in Estonia operate as universal banks, covering a wide range of market segments, while smaller banks concentrate on a specific range of services.
In 1992 there were 42 banks in Estonia. During the following years the number of banks was declining mainly due to mergers and acquisitions. Now there are 15 banks operating in Estonia, including 6 domestic banks and 9 foreign-controlled banks (branches and subsidiaries). However, total assets of the domestic banks comprise only 8.68 % of consolidated banking assets. The majority of foreign-controlled banks are owned by Nordic banking groups, which makes Estonian banking sector dependent on the economies and banking sectors of the Nordic Countries (Denmark, Finland, Norway and to a greater extent Sweden). The ratio of consolidated banking assets to gross domestic product for Estonia shows that its banking sector is roughly the same size as its national economy (114.66 %).
Rank
Name
Total Assets
Market Share
Net Income
Country of Origin
1
Swedbank AS
9716.30
40.54%
212.23
Sweden
2
AS SEB Pank
5581.66
23.29%
70.83
Sweden
3
Nordea Bank AB Eesti filiaal

(closed)

3627.55
15.14%
24.41
Sweden
4
Danske Bank A/S Eesti filiaal
1698.70
7.09%
16.21
Denmark
5
AS LHV Pank
895.22
3.74%
9.96
Estonia
6
Luminor Bank AS
831.47
3.47%
5.83
Norway
7
Bigbank AS
392.32
1.64%
11.45
Estonia
8
Coop Pank AS
290.08
1.21%
2.51
Estonia
9
AS Citadele banka Eesti filiaal
227.71
0.95%
2.61
Latvia
10
TALLINNA ÄRIPANGA AS
216.67
0.90%
1.27
Estonia
11
Versobank AS
200.12
0.84%
1.35
Estonia
12
Svenska Handelsbanken AB Eesti filiaal
159.99
0.67%
-1.38
Sweden
13
AS Inbank

(new)

84.59
0.35%
2.50
Estonia
14
Scania Finans AB Eesti filiaal
41.67
0.17%
0.98
Sweden
15
Folkefinans AS Eesti filiaal
0.70
0.00%
-0.42
Norway
All the data are for 2016. Total assets and net income are provided in million EUR.
Out of 15 banks operating in Estonia, there are 3 largest banks comprising together about 75% of consolidated banking assets, each of the banks has market share of more than 15% of total banking assets.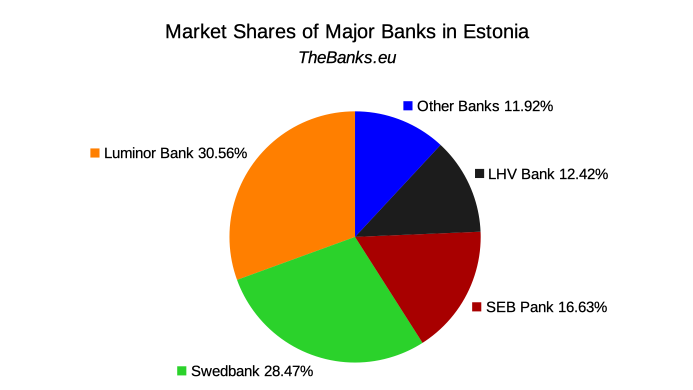 Among the 3 largest banks (Swedbank, SEB Bank and Nordea Bank), SEB Bank and Nordea have had their total assets and net income without significant changes since 2008. While the total assets of Swedbank have slightly declined over 2008-2016, its net income has suffered significant changes: it varied remarkably during the period and was even negative in 2009. Nevertheless, since 2011 Swedbank has had the highest return on assets compared to SEB Bank and Nordea Bank.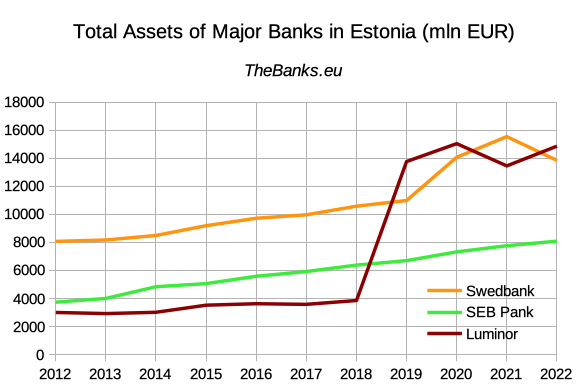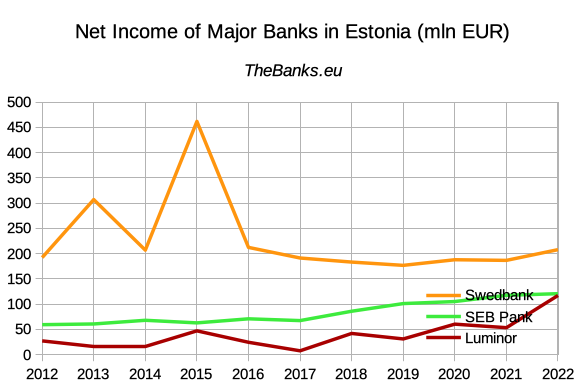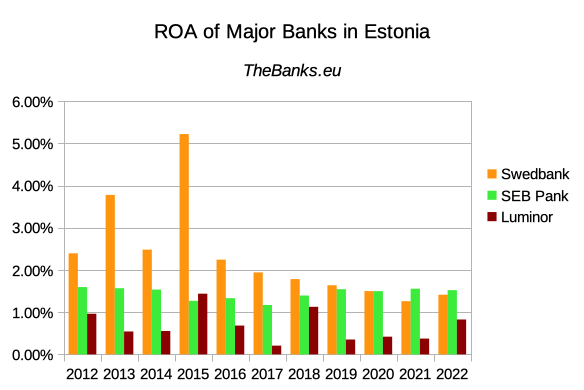 See Also
Economy and Banking Sector of Estonia