Banks in Malta
9 June 2017, updated 24 January 2020
Due to its strategic location at the crossroads linking Europe, Africa and the Middle East, Malta has been attracted the interest of the various dominant cultures for about the last 7,000 years. Since the 1980s Malta has followed a strategy of developing a financial services centre. Malta's joining the European Union in 2004, and the eurozone in 2008 played a crucial role in establishing its status as a key business hub in the Euro-Mediterranean region. Malta has been through a signicant transformation of its banking sector over the last decade, from a tightly controlled publicly owned sector to the diversified and efficiently regulated one with high degree of liberalisation and foreign ownership. Almost half of the banks operating in Malta (10) have domestic capital, while 13 banks are foreign-controlled (representing 9 different countries, namely the United Kingdom, Turkey, Australia, the Netherlands, United States, Kuwait, Belgium, Greece, Austria).
Maltese Banking Sector Structure
Currently there are 23 banks operating in Malta, including 3 branches of foreign banks.
The Central Bank of Malta classified the rest 20 banks based on the provided solutions and the served customers into the following 3 categories: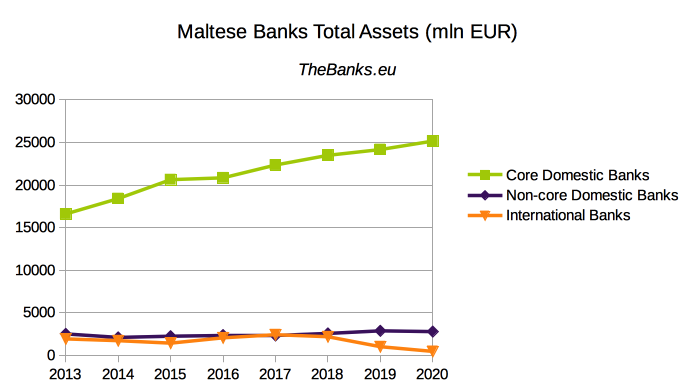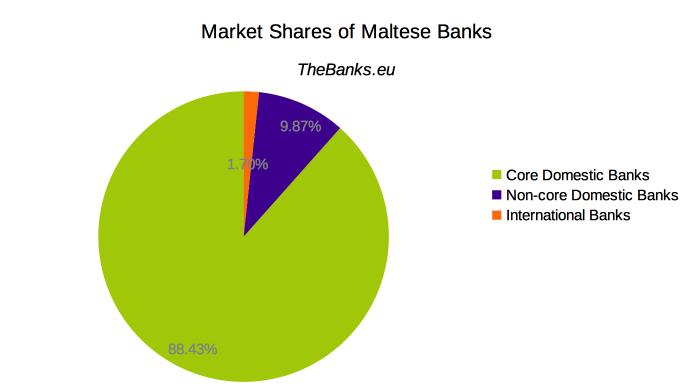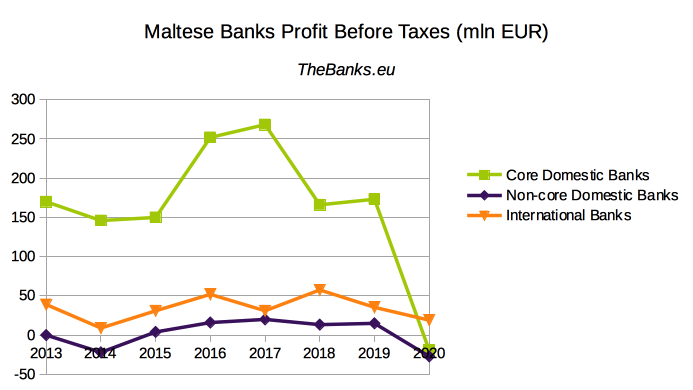 Major Banks
Total assets of 5 major banks in Malta comprise 82.17%. Among the five major banks 4 banks are core domestic banks and 1 bank (FIMBank plc) is classified as a non-core domestic bank. In terms of country of origin, 2 banks are domestic Maltese banks while the other 3 banks are foreign-controlled.
Core Domestic Banks
There are 6 core domestic banks operating in Malta having the market share of 82.43 % of total assets. Core domestic banks usually operate as universal banks and offer a wide range of banking solutions with the focus on retail banking products and services for local residents, both individuals and business entities. Core domestic banks are the key providers of lending and deposit products to the residents of Malta and hence are mostly funded by customer deposits. Core domestic banks also offer private banking, wealth management and corporate banking solutions. Core domestic banks operate via a network of brick-and-mortar branches.
Non-core Domestic Banks
There are 5 non-core domestic banks operating in Malta having the market share of 9.76 % of total assets. Non-core domestic banks also operate as full-service banks, but these bank are focused on providing their products and services to non-residents of Malta while offering only a limited set of banking products and services to Maltese residents, usually restricted to deposit taking. Non-core domestic banks also offer private banking, wealth management, corporate banking and securities services.
Name
Business Focus
Country of Origin
FCM Bank Ltd
retail banking
corporate banking
foreign-exchange services
Malta
FIMBank plc
retail banking
corporate banking
Kuwait
IIG Bank (Malta) LTD
retail banking
private banking
wealth management
corporate banking
trade finance
foreign exchange
Malta
Izola Bank plc
retail banking
business banking
Malta
Sparkasse Bank Malta plc
private banking
investment services
custody services
Austria
International Banks
There are 9 international banks operating in Malta having the market share of 7.82 % of total assets. International banks offer their services primarily to individuals and businesses residing outside of Malta. International banks are usually specialized banks, focused on a particular area or a particular customer group.
Several international banks operate in Malta as direct banks providing their products via Internet:
Other international banks provide products and services to their customers in their countries of origin:
List of Banks in Malta
The list of bank operating in Malta and their selected financial data is shown below.
All the data are for 2018. Total assets and annual profit are provided in million EUR.
See Also
External Links
Central Bank of Malta
Finance Malta