Changes in Swiss banks in 2014
13 August 2015
Financial crisis 2008/2009 followed by sovereign debt crisis, triggered radical transformations in the world financial markets: regulatory requirements imposed upon banks have increased emphasis on consumer protection, efforts to prevent tax evasion have already resulted in adopting FATCA and automatic exchange of information on financial accounts.
Swiss banks are successfully adopting their strategies to the new environment: althought the number of banks is decreasing (in 2014, 1 new bank was opened while 8 banks closed), the total annual profit of all the banks in 2014 increased by 2.3 bln CHF (compared to 2013) to 14.2 bln CHF, the aggregate total assets for all banks in Switzerland rose by 331.2 bln CHF (9.8%) to 3,705.3 CHF bln.
Number of Banks
During the past three years, the number of banks operating in Switzerland has been declining: each year the number of closed banks prevailed the number of newly opened banks. In 2014 there were 282 banks operating in Switzerland. The majority of the banks closing down their business in Switzerland are branches of foreign banks and foreign-controlled banks.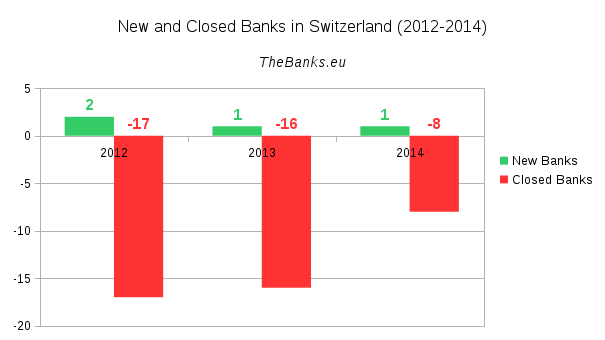 Balance Sheets
Despite the decreasing number of banks, consolidated total assets of the banks are gradually growing: in 2014 the total assets recovered to its pre-crisis level. The increase was primarily attributable to foreign balance sheet items. Alongside the big banks, the foreign-controlled banks also expanded their foreign business. Domestic mortgage loans (making up roughly 30% of the aggregated total assets), continued to rise in 2014, growing by 31.0 bln CHF (3.6%) to 900.9 bln CHF.
In 2014, customer deposits continued to increase: since 2008, customer deposits in savings or deposits accounts have grown by more than 6% each year. In 2014, the increase was mainly attributable to domestic deposits.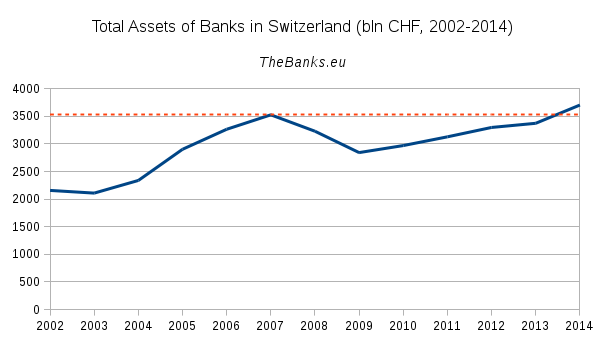 New Banks (2014)

Banque du Léman, the only newly opened bank in Switzerland in 2014, is a 100% subsidiary of Caisse d'Epargne Rhône-Alpes, which is part of Groupe BPCE (Banque Populaire and Caisse d'Epargne). The bank is specializing in retail banking for Swiss residents.
Closed Banks (2014)
Stepping Out From Foreign Asset Management
In 2014 two cantonal banks decided to step out from foreign asset management and to focus on the domestic market: Aargauische Kantonalbank and St. Galler Kantonalbank.

AKB Privatbank Zürich, a subsidiary of Aargauische Kantonalbank, mainly involved in asset management in the EU area, was taken over by Privatbank IHAG Zürich AG on 23 November 2013. Aargauische Kantonalbank decided to focus primarily on their traditional economic territory.

St. Galler Kantonalbank, announced on June 23, 2013 that it would strengthen its core business and would focus on the domestic market in Eastern Switzerland and the markets rest of Switzerland and Germany. It hence was decided to divest from Hyposwiss Private Bank Geneva SA and Hyposwiss Private Bank AG. In 2014, Hyposwiss Private Bank Geneva SA was sold to Mirelis InvesTrust SA while Hyposwiss Private Bank AG ceased its operations.

Standard Chartered Bank (Switzerland) SA was closed after failing to attract a buyer. Selling the bank involved mainly in wealth management activities was planned by Standard Chartered Group to shed non-core businesses and to focus on Asia, Africa and the Middle East.
Closing Down After Foreign Authorities Investigation

Bank Gutenberg on September 24, 2014 signed a settlement agreement with British Columbia Securities Commission (BCSC), admitting that the bank traded securities on behalf of British Columbia residents, contrary to the legal requirement to be registered. The bank agreed to pay $850,000 to BCSC. Bank Gutenberg then ceased its operations.
Bankruptcy After Parent Group Collapse

Banque Privée Espirito Santo SA on September 19, 2014 was declared bankrupt by FINMA after its parent bank, Banco Espírito Santo SA (Portugal) collapsed in August 2014.
Liechtensteinische Banks: Closing Down For New Strategies

Centrum Bank (Schweiz) AG voluntary returned its banking licence in mid-2014 to consolidate its activities at the parent bank in Liechtenstein (Centrum Bank AG). On 7 January 2015 all shares of Centrum Bank AG (Liechtensteim) were acquired by VP Bank AG.

LLB Group announced in March 2013 that it would close its Swiss banking subsidiary LLB (Switzerland) Ltd in the context of the new strategy and economic considerations. LLB (Switzerland) Ltd. terminated its banking activities effective as of the end of 2013. The bank was closed according to the new strategy "Focus2015" to reduce costs and complexity of the group.
Savings Banks: Consolidating Into a Bigger Bank

Sparkasse Engelberg was taken over by Sparkasse Schwyz to form the largest regional bank Central Switzerland.
External Links
Swiss National Bank