Offshore Banking in Montenegro
12 January 2017, updated 16 April 2019
Montenegro is a small country in Southeastern Europe, classified by World Bank as upper middle-income country. Montenegro is a service-oriented economy transitioning to a market system. Since 2002 Montenegro uses euro as its domestic currency unilaterally, though it is not an official member of the euro zone. Banking sector of Montenegro is characterized by relatively small size, small number of banks with wide business focus, high degree of concentration and high share of foreign capital.
Despite carrying substantial risks and lacking innovative banking products especially in private and investment banking, Montenegro is becoming an increasingly popular offshore banking destination for several reasons:
Montenegro has neither signed the Automatic Information Exchange Agreement nor indicated a timeline of the start of the automatic information exchange.
Montenegrin banks offer a variety of services for non-residents in retail and corporate banking, both to natural persons and legal entities.
Know-your-customer procedures are simple and straightforward, the banks do not require to provide documents confirming the source of money.
Montenegrin banks have English versions of their websites and employ English-speaking personnel.
Montenegro uses IBAN system to identify bank accounts which facilitated international payments.
However, there are also several drawbacks in offshore banking of Montenegro:
Banks in Montenegro have only limited offers in private banking as well as in asset and wealth management.
To open an account, Montenegrin banks require a branch visit and do not allow online account opening.
Although Montenegro has only "agreed in substance" FATCA Intergovernmental Agreement (IGA), all Montenegrin banks have registered to participate in FATCA information exchange.
Deposit guarantee scheme in Montenegro covers only up to 50,000 EUR per bank per depositor which is twice less than in the European Union.
Overview of Banking Sector of Montenegro
In 2018 there were 13 banks operating in Montenegro, including 3 domestic banks and 10 foreign-controlled banks. The foreign-controlled banks are originated from different European countries (Austria, Hungary, Italy, Serbia, Slovenia, Azerbaijan, Ukraine, Turkey).
Banking sector of Montenegro is highly concentrated: 5 largest banks comprise together about 65% of consolidated banking assets, each of the banks has market share of more than 10% of total banking assets. All of these banks are foreign-controlled.
In 2018 2 banks reported net loss, while the rest 11 banks reported net profit.
In December 2018, Central Bank of Montenegro placed Atlas banka AD Podgorica and Invest banka Montenegro AD Podgorica under temporary administration due to poor financial conditions of the two banks. In 2019 the both banks started bankruptcy procedure.
Banks in Montenegro operate as universal banks, providing a broad range of retail (savings products, current accounts, payment cards, consumer and business loans) and corporate banking (letters of credit, guarantees) products and services.
Investment banking solutions are provided by 3 banks ( Hipotekarna banka AD Podgorica, Prva banka Crne Gore AD Podgorica, Universal Capital Bank AD Podgorica ) include securities trading and custody services. Private banking is offered only by Crnogorska komercijalna banka AD Podgorica.
During the recent years, banks in Montenegro have been attracting deposits from both Montenegrin residents and non-residents, from both natural persons and legal entities. Non-resident deposits account for about 20% of total deposits, while deposits of foreign companies - about 10% of corporate deposits. Loans to non-residents comprise about 2-3% of total loans.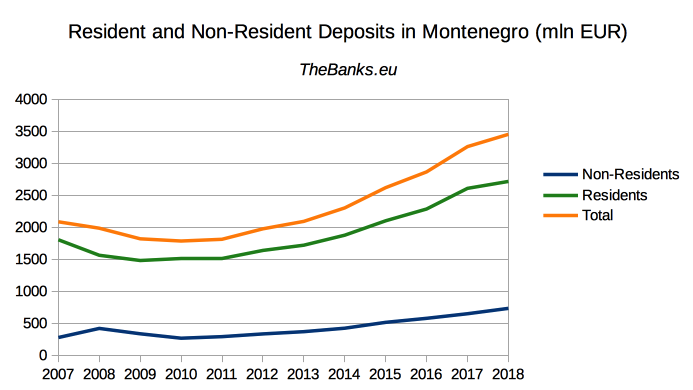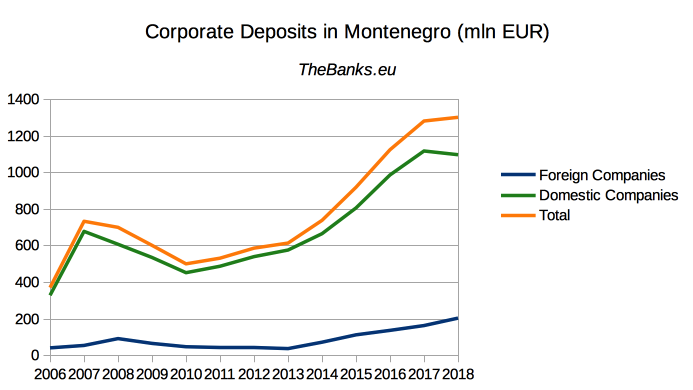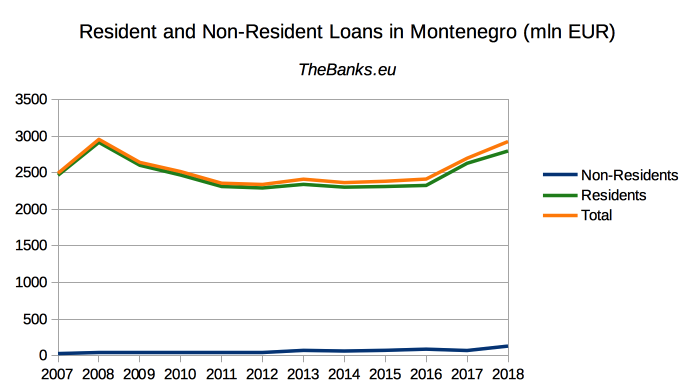 Opening Bank Account in Montenegro
9 banks (ouf of 13) offer non-resident accounts, usually to both natural persons and legal entities.
Normally, the banks require the following documents to open a non-resident account for a natural person:
passport or ID card
PEP (politically exposed person) form
Montenegrin banks do not allow online account opening, and it's necessary to visit a branch of the chosen bank; all of the banks provide online banking services to access the account.
See Also
External Links
Central Bank of Montenegro