Private Banking
31 January 2015
Private banking refers to banking, investment and other financial services generally provided by banks to its clients, usually to high-net-worth individuals who enjoy high levels of income or invest sizable assets. "Private" means that products and services provided by the bank are rendered on a more personal basis than in mass-market retail banking, and delivered to the client via dedicated bank advisers. Essentially, private banking is similar to wealth management and asset management; premium banking is usually a subset of private banking services.
Private banking is a process, which starts with defining of a client's investment profile and objectives and elaborating of a proper investment strategy, then executed according to the selected model, with regularly conducted follow-ups and performance reviews.
There are several parameters to be considered when choosing a bank for private banking, awards received by the bank can also be taken into account.
Private Banking Clients
In general, private banking in provided to high-net-worth individuals, but several banks also offer private banking to institutions.
For example:

Deutsche Bank, offers its private banking services to both private clients and their families and insitituions (including public and private pension funds, national and supranational entities, corporations, charities and foundations).
While an individual may be able to conduct some private banking starting with $50,000 or less in investable assets, some exclusive private banks only accept clients with more than $1,000,000 worth of investable assets.
For example:

RBS Private Banking is a available to all customers with a sole income of at least £100,000 paid into their RBS account, or minimum outstanding mortgage borrowings with us of £300,000, or savings and investments of at least £100,000 held with RBS.

Focusing on the high end of the market, KBC Private Banking sets a minimum investment threshold to €1,000,000 in investable income.
Private Banking Products
As mentioned above, "private" refers to providing products and services, tailored to meet investment goals of a particular client. Because investment goals vary substantially among the clients, the banks offer a broad range of private banking products to their clients, for example:
alternative investements
equities
fixed-income securities
mutual funds
structured products
foreign exchange
commodities including precoius metals
deposits
cash management
real estate investments
Banks can offer either proprietary products or third-party products. To distinguish between there two options, two types of product platforms are used:
Open architecture product platform is where a private bank distributes all the third party products and is not restricted to selling only its proprietary products.
Closed architecture product platform is where the bank sells only its proprietary products and does not entertain any third party product.
Because of the diversity of clients' investment goals and existing private banking products, a bank can not meet the needs of the clients by offering solely proprietary products. That is why most of the banks now follow an open architecture product platform.
Private Banking Services
Private banking services can be subdivided into 2 broad categories: asset management and financial advising. Examples of services from each category are shown below:
Asset Management

Financial Advising

asset allocation
risk management
fiduciary solutions
protecting and growing assets in the present

investment counseling
market analysis
tax counseling
estate planning
retirement planning
inheritance planning
Private Banking Process
Private banking is a continuous process of interactions between a client and his/her bank, and this process can be broken down into several phases.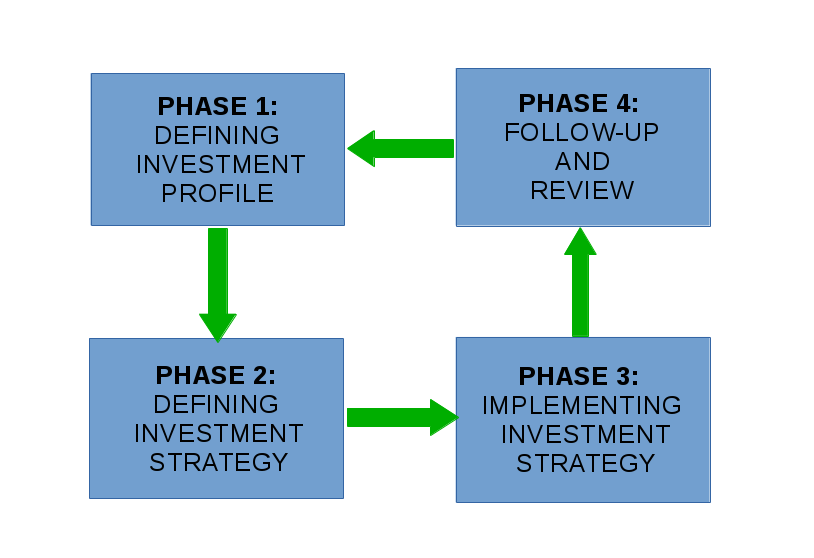 Phase 1: Definition of investment profile and objectives
When determining the investment profile and objectives, the bank must understand each client individually: the bank studies the individual situation of a client in detail, looking to understand his/her investment horizons, liquidity needs and the levels of risk he/she is willing to assume. This analysis is reviewed periodically, based on the evolution of the market and of the client's needs.
As far as the bank's role in decision-making and service, there are three private banking models, each guided by the investment profile and designed to meet clients different needs.
Phase 2: Definition of the investment strategy
The definition of the asset allocation is the fundamental pillar of the investment strategy and guides us to the successful achievement of a client's goals.
This strategic asset allocation is modified, from time to time, according to the market conditions and perspectives.
Phase 3: Execution and implementation
Access to the most complete selection of financial products is crucial for a successful execution of the investment strategy. At this stage, products offered by the bank are used to implement the client's investment strategy.
Phase 4: Follow-up and performance review
At this stage, the bank along with the client, performs a thorough and frequent revision of the client's profile, objectives and results, seeking to keep the investments within the established parameters.
In order to identify possible deviations in the strategic positions from the investment profile, automated monitoring systems may be used.
Furthermore, a client may be offered direct access to his/her positions through a private access site on the Internet, enabling them to view the evolution of their investment strategies, independently of the bank's controls.
Private Banking Models
Depending on the roles of the bank and the client in decision making when implementing the investment strategy, three models of interaction between the client and the bank exist.
Discretionary Portfolio Management
In this model a client delegates management of his/her investments to professional asset managers. The bank, in turn, defines, implements and controls the investment strategy based on the client's profile and objectives.
Decision making is adopted by the bank based on the investment profile of the client.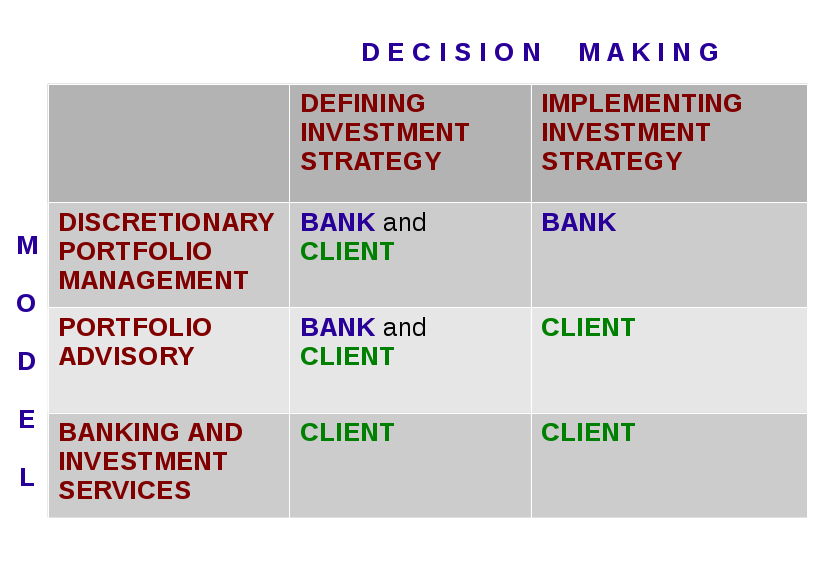 Portfolio Advisory
In portfolio advisory model, a client receives active, frequent advisory services from the bank's specialists. The client can benefit from using this model, when he/she has time and interest to follow the markets.
The bank's role here is in
designing the investment strategy tailore to specific needs,
keeping the client informed, providing proactive recommendations,
performing portfolio reviews.
Decision making is performed by the client with active advisory services of the bank.
Banking and Investment Services
A client manages his/her assets directly with one-off advisory services from the bank. The bank suggests investment proposals and provides instruments to help the client select.
Decisions are made by the client based on his/her investment profile.
Private Banking vs Premium Banking
While private banking is one of the major banking services (along with retail, corporate and investment banking), premium banking is an extension of retail banking services to provide additional convenience and advantages to the bank's clients. Premium banking can provide basic private banking services as well. Several examples of premium banking services from retail and private banking are listed below.
Retail Banking

Private Banking

priority handling of the client's banking transactions with minimum waiting time
possibility for numeric accounts and other options for increased confidentiality
preferential conditions on the bank's products and services, such as the possibility to withdraw higher amounts in cash without pre-advice
preferential tariff on selected products and services, such as higher than the standard interest rates

a personal manager, who can be contacted at any time
investment counseling
periodical analysis of the client's investments
regular market information and analyses
Like private banking, premium banking is usually available to a bank client upon meeting eligibility criteria, however, the criteria for premium banking are less strict than for private banking.
For example:

To be eligible to use Barclays premium banking, a client should have an annual gross income paid into a Barclays current account of over £75,000 or have over £100,000 saved or invested with Barclays. Barlcays private banking services are available to clients who wish to establish an investment portfolio of £500,000 and above.
Private Banking vs Wealth Management
Essentially, private banking and welth management are the same: some banks call their private banking divisions "Wealth Management", "Private Wealth Management" or "Global Wealth Management". Several examples are given below:
| Name | Private Banking Division |
| --- | --- |
| HSBC | Retail Banking and Wealth Management |
| Deutsche Bank | Deutsche Asset and Wealth Management |
| BNP Paribas | BNP Paribas Wealth Management |
| Barclays | Barclays Wealth and Investment Management |
| UBS | UBS Wealth Management |
Private Banking vs Asset Management
In finance, the term asset managent covers broader area than private banking: for exampple, asset management doesn't restrict its clients to wealthy individuals.
Private Banking vs Offshore Banking
Offshore banking refers to providing banking services to a client in jurisdictions where the client doesn't have a tax residence.
Hence, as a part of private banking investment strategy, a bank can offer a client to make offshore investments.
Choosing Private Banking Bank
There are several parameters to be considered when choosing a private banking services provided by a particular bank, for example:
assets under management;
net income;
product range;
product platform (open or closed);
minimum investment threshold;
number of clients per adviser.
Awards in private banking are also can be taken into account.
Awards in Private Banking
Several awards exist for private banking. European banks, awarded by PWM/The Banker

in 2014 are shown below.
Private Banking Providers
Major European Banks Offering Private Banking
Most of global banks provide private banking service, leveraging the parent brand to gain a client's trust and confidence.
Name
Private Banking
HSBC

Global Private Banking




Retail Banking and Wealth Management



Deutsche Bank

Deutsche Asset and Wealth Management

BNP Paribas

BNP Paribas Wealth Management

Credit Agricole

Credit Agricole Private Banking

Barclays

Premier Banking




Barclays Wealth and Investment Management



The Royal Bank of Scotland

Coutts Private Banking

Santander

Santander Private Banking

Société Générale

Société Générale Private Banking

ING Bank

ING Private Banking (Netherlands)




ING Private Banking (Luxembourg)



BPCE

Natixis Private Banking




Banque Privée 1818



Lloyds Banking Group

Lloyds Bank Private Banking

UBS

UBS Wealth Management




UBS Global Asset Management



UniCredit

UniCredit Private Banking

Credit Suisse

Private Banking North America

Commerzbank

Commerzbank International Wealth Management

Standard Chartered

Standard Chartered Private Bank




Islamic Private Banking



Danske Bank

Danske Bank International Private Banking

ABN AMRO

ABN AMRO MeesPierson




ABN AMRO Private Banking



DnB Bank

DnB Private Banking

KBC Bank

KBC Private Banking

Erste Group Bank

Erste Private Banking
Private Banking Destinations
There are several countries in Europe, where many banks provide private banking service: