Cantonal Banks
21 August 2015, updated 21 August 2016
Cantonal Banks are universal canton-owned banks, specializing in retail and corporate banking products for the residents of their canton. Liabilities of the majority of the Cantonal Banks are guaranteed by the owning canton. Cantonal Banks account about 30% of Swiss banking sector: consolidated total assets of all the Cantonal Banks are comparable with those of "Big Banks": UBS and Credit Suisse.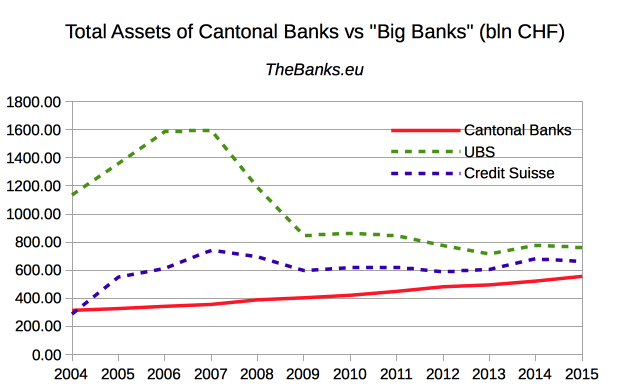 Ownership Structure
Cantonal banks are either 100% or majority-owned by the cantons. The banks can differ from each other in terms of their legal and organizational structures, their size and their business policies. Each canton, as owner, decides on its Cantonal Bank's legal and organizational form, ownership structure, roles and fields of business to suit the canton's specific objectives.
Business Focus
Most cantonal banks are universal banks operating in all fields of business, although they are particularly strong in savings and mortgage products. In 2015, mortgages account more than 60% of the Cantonal Banks total assets, while customer savings and investments - about 40% of their total liabilities.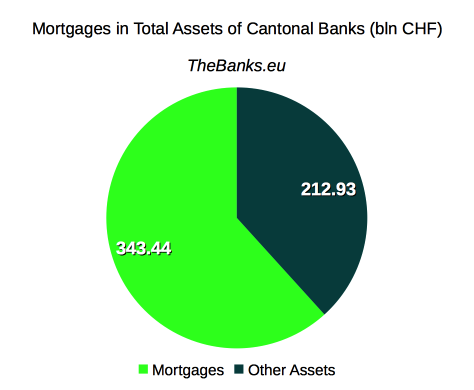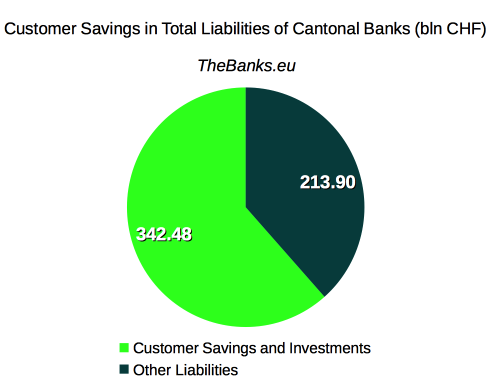 In a few cases, asset management for domestic customers also plays an important role.
Area Served
The individual Cantonal Banks operate primarily in the market of their home canton, where many of them are the market leaders. Some of the banks have branches outside their canton or offices even outside the country. The policies of serving foreign customers differ from bank to bank.
Every Cantonal Bank also has national presence through its membership in the Cantonal Banks Group. For example, with around 1,250 ATM, the Cantonal Banks have an extensive network of ATMs in Switzerland. Customers can withdraw cash in Swiss francs free of charge throughout Switzerland at the ATMs of any Cantonal Bank. There is a similar agreement covering over-the-counter business: for a small fee customers can pay in or withdraw cash throughout Switzerland at any Cantonal Bank.
State Guarantee
For the most Cantonal Banks, the respective canton is liable for the bank's liabilities. The canton determines whether it wishes to be liable for the liabilities of its Cantonal Bank and defines the amount of the guarantee.
21 out of 24 Cantonal Banks have full state guarantee. Berner Kantonalbank and Banque Cantonale Vaudoise have none state guarantee, while Banque Cantonale de Genève has limited guarantee from the canton.
List of Cantonal Banks
The list of the Cantonal Banks with key financial data for 2015 and state guarantee is shown below.
Name
Total Assets (mln CHF)
Annual Profit (mln CHF)
Number of Employees
State Guarantee
Aargauische Kantonalbank
24282.64
155.37
690
full
Appenzeller Kantonalbank
2925.31
11.93
76
full
Banca dello Stato del Cantone Ticino
11411.53
42.79
427
full
Banque Cantonale de Fribourg
20623.24
122.69
380
full
Banque Cantonale de Genève
19939.08
78.21
718
limited
Banque Cantonale du Jura SA
2851.33
8.65
116
full
Banque Cantonale du Valais
13952.35
56.82
460
full
Banque cantonale neuchâteloise
10305.07
34.96
265
full
Banque Cantonale Vaudoise
42563.38
336.33
1947
none
Basellandschaftliche Kantonalbank
23185.85
130.45
644
full
Basler Kantonalbank
22591.71
126.24
1284
full
Berner Kantonalbank AG
28034.67
131.26
1091
none
Glarner Kantonalbank
4989.20
20.02
167
full
Graubündner Kantonalbank
23090.80
168.18
792
full
Luzerner Kantonalbank AG
33270.82
180.11
943
full
Nidwaldner Kantonalbank
4281.09
15.61
139
full
Obwaldner Kantonalbank
4273.83
14.68
149
full
Schaffhauser Kantonalbank
6637.81
49.63
282
full
Schwyzer Kantonalbank
16193.61
73.61
490
full
St.Galler Kantonalbank AG
31151.20
133.40
1059
full
Thurgauer Kantonalbank
20867.77
122.38
686
full
Urner Kantonalbank
2854.06
17.41
99
full
Zuger Kantonalbank
14313.31
61.47
402
full
Zürcher Kantonalbank
152850.95
722.27
5179
full
External Links
Cantonal Banks Group