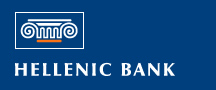 Hellenic Bank started its operations in 1976. Hellenic Bank provides a wide range of products and services in personal and business banking. Alongside traditional banking products, Hellenic Bank also offers a broad range of financial services that include factoring, brokerage services, insurance, portfolio management, investment banking, mutual funds, private banking and custodian services.
Contacts
Address
Corner 200 Limassol Avenue and Athalassas Avenue, Strovolos, 2025, Nicosia, Cyprus

Phone
+357 22 500500
Website
https://www.hellenicbank.com/
E-Mail
serviceline@hellenicbank.com
Head of Group
Hellenic Bank (Cyprus)
Credit Ratings

(as of Apr 2016)

Fitch
RD (restricted default)
Moody's
Caa2 (extremely speculative)
S&P's
- (not rated)
Deposit Guarantee
Yes (up to 100 000 EUR per depositor)
Bank Identifiers
BIC (SWIFT)
HEBACY2N
MFI ID
CY110005
Credit Ratings
Credit Rating is an opinion of a credit rating agency about credit worthiness of a company or a government.Of the 'Big Three' rating agencies, Hellenic Bank is rated by Fitch and Moody's.
Credit ratings assigned to Hellenic Bank as of April 2016 are shown in details in the following sections.
Fitch
Long-term issuer default rating is Fitch's view of a credit institution's relative vulnerability to default on its financial obligations, for Hellenic Bank it is set to RD (restricted default). The rating is not on watch. Short-term issuer default rating for Hellenic Bank is set to RD (restricted default).
| | |
| --- | --- |
| Long-Term Issuer Default Rating | RD |
| Outlook | - |
| On Watch | No |
| Short-Term Issuer Default Rating | RD |
| Viability Rating | f |
| Support Rating | 5 |
| Support Rating Floor | NF |
Viability rating for Hellenic Bank is set to f (has failed, and that either has defaulted or would have defaulted had it not received extraordinary support); support rating is 5 (there is a possibility of external support, but it cannot be relied upon); support rating floor is NF (no floor; no reasonable presumption of potential support being forthcoming).
Moody's
Long-term rating for Hellenic Bank it is set to Caa2 (extremely speculative). Long-term bank deposit rating is Caa2 (extremely speculative). Bank financial strength rating is caa3. Short-term rating is not assigned.
| | |
| --- | --- |
| Long-Term Rating | Caa2 |
| Long-Term Bank Deposit Rating | Caa2 |
| Bank Financial Strength Rating | caa3 |
| Short-Term Rating | - |
| Outlook | stable |
Outlook for the ratings of Hellenic Bank is set to stable (not likely to change).
Deposit Guarantee
Deposit Guarantee Schemes compensate certain deposits held by depositors of a bank that becomes unable to meet its obligations.
All credit institutions operating in Cyprus are obliged to participate in Cyprian deposit guarantee scheme.
In the case of Hellenic Bank failure, eligible depositors having covered accounts in this bank will be paid out the following compensation:
| | |
| --- | --- |
| Maximum Protected Amount | 100 000 EUR |
| Paid In Currency | EUR |
Further Information: Deposit Guarantee Scheme in Cyprus
ECB Minimum Reserves Requirements (MRR)
Minimum reserves is the minimum amount of reserves a credit institution is required to hold with a central bank.
| | |
| --- | --- |
| Subject to MRR by ECB | Yes |
| Exempt from MRR by ECB | No |
Bank Identifiers
Any bank can be identified for different purposes and hence can have several different identifiers.
BIC
BIC (Business Identifier Code, also known as SWIFT code or SWIFT BIC) is a the mostly used international identifier of financial institutions. SWIFT is the registration authority for BICs. BICs are used in financial transactions, client and counterparty data bases, compliance documents and many others.
A BIC consists of eight or eleven characters, comprising a financial institution code (four characters), a country code (two characters), a location code (two characters) and, optionally, a branch code (three characters).
BIC of Hellenic Bank and its components are shown in the table below.
| | |
| --- | --- |
| BIC | HEBACY2N |
| Bank BIC Code | HEBA |
| Country Code | CY (Cyprus) |
| Location Code | 2N |
| Branch Code | - |
MFI ID
MFI ID (Monetary Financial Institution Identifier) is a code, unique to each institution in the MFI list provided by ECB (European Central Bank). MFI ID is hence applicable to MFIs resident in the European Union.
The code is alphanumerical, with the first two digits representing the two-digit ISO code for the country of residence of the MFI and the remaining number of digits (no limit has been specified) is any combination of alphanumerical characters.
MFI ID of Hellenic Bank is shown in the table below.
Related Information on Cyprus

Economy and Banking Sector of Cyprus

List of Banks in Cyprus