J&T Banka, a.s. is a joint stock company incorporated on 13 October 1992 in the Czech Republic. The bank's activities are focused on private, investment, corporate and retail banking. The bank helps its clients to protect their assets, increase their value and pass them on to the next generations.
retail banking
private banking
family office
corporate banking
asset management
financial advising
Area Served
Czech Republic
European Union
Spain
Germany
Austria
current accounts
payment cards
savings accounts
notice accounts
project financing
bridge loans
syndicated loans
portfolio management
International Transfers
SEPA Credit Transfers
SEPA Instant Transfers
SEPA Direct Debits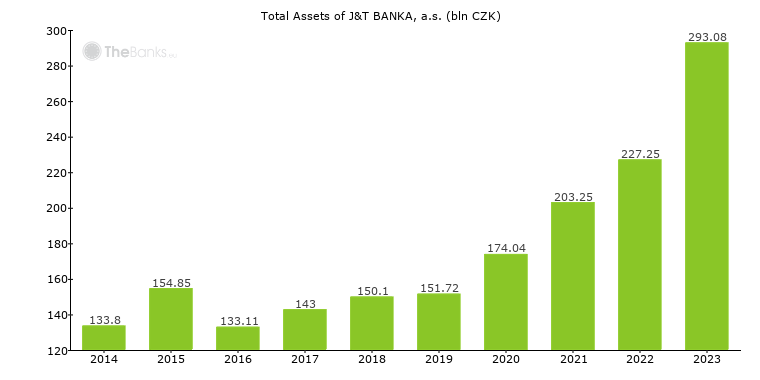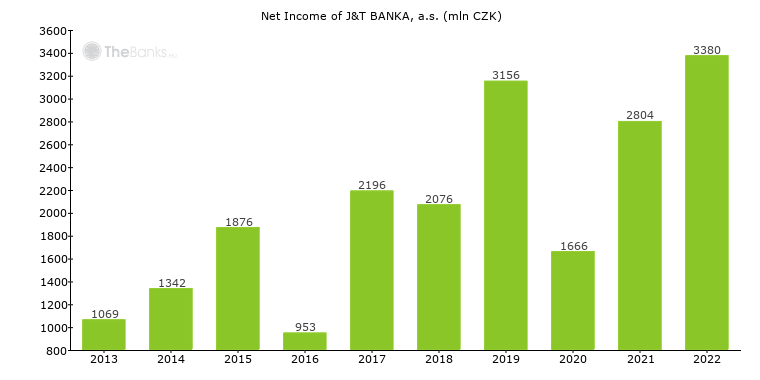 Total Assets (2018)
150.10 bln CZK (+4.97%)
Net Income (2018)
2,076.00 mln CZK (-5.46%)
In 2018 total assets of J & T BANKA, a.s. were 150,10 bln CZK. In 2018 the bank's net income was 2 076,00 mln CZK.
Protected Amount
up to 100,000 EUR
Guarantee Fund
Financial Market Guarantee System
Covered Depositors
natural persons
legal entities

Covered Accounts
current accounts
deposit accounts

J & T BANKA, a.s. participates in the deposit guarantee scheme of the Czech Republic. This deposit guarantee scheme applies to current accounts, deposit accounts made by natural persons, legal entities and covers up to up to 100,000 EUR per bank per depositor. J & T BANKA, a.s. is a member of Financial Market Guarantee System and makes its contributions into it.
Contacts
Pobřežní 297/14, 18600, Praha 8, Czech Republic
J & T BANKA, a.s. is headquartered in Praha 8.
Social Networks
J & T BANKA, a.s. has profiles at the following social networks: