Akbank is a Turkish financial institution, established in 1948 to provide funding to local cotton growers. Now Akbank is a full-service universal bank offering consumer banking, commercial banking, SME banking, corporate banking, private banking, foreign currency exchange, money markets and securities trading, and international banking services. Akbank AG was estblished in 1998 in Frankfurt am Main, and its core business areas include corporate banking, trade finance and retail banking.
retail banking
private banking
corporate banking
institutional banking
savings accounts
time deposit accounts
corporate accounts
corporate deposits
corporate loans
cash management
Islamic finance
trade finance
International Transfers
SEPA Credit Transfers
SEPA Instant Transfers
SEPA Direct Debits
Becoming a client of AKBANK AG can be done in a few steps: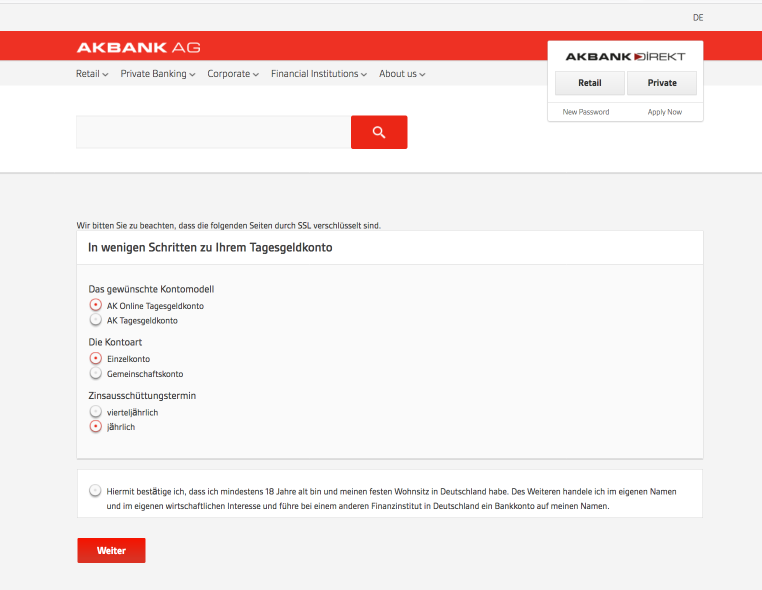 1.
Submit online application
2.
Visit bank branch
AKBANK AG performs client's identity verification via branch visit.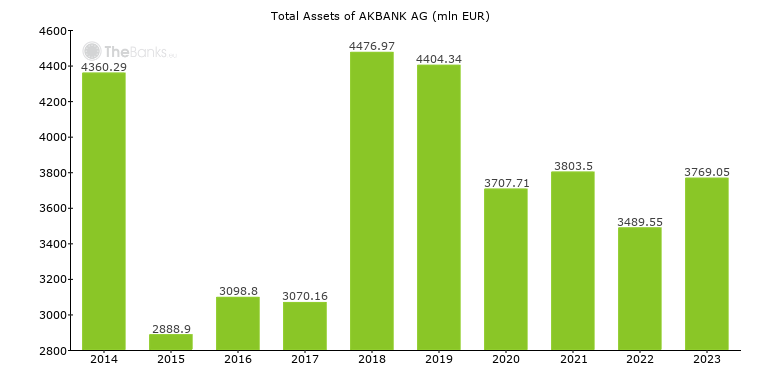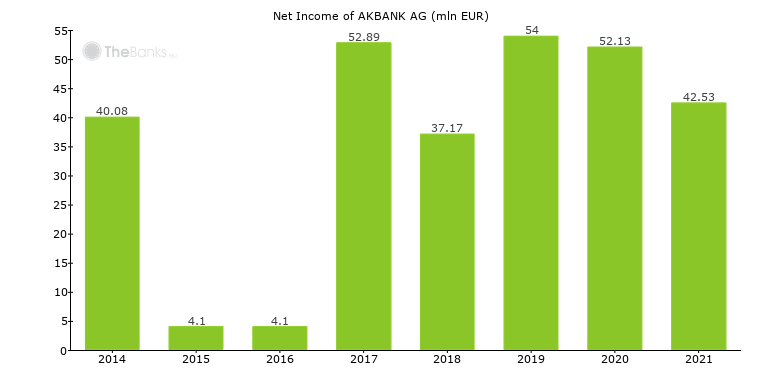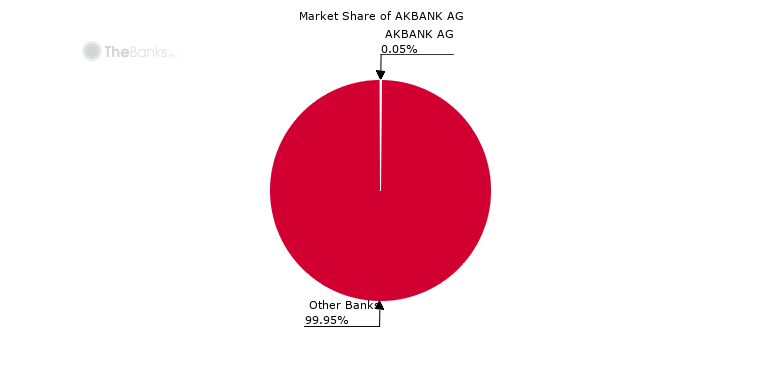 Total Assets (2018)
4,476.97 mln EUR (+45.82%)
Net Income (2018)
37.17 mln EUR (-29.72%)
AKBANK AG is the 185th largest bank in Germany in terms of total assets. In 2018 its total assets were 4 476,97 mln EUR, providing the bank with the market share of 0.06%. In 2018 the bank's net income was 37,17 mln EUR.
Fitch: B+
AAA
AA+, AA, AA-
A+, A, A-
BBB+, BBB, BBB-
BB+, BB, BB-
B+, B, B-
CCC, CC, C, RD, D
Moodys: -
Aaa
Aa1, Aa2, Aa3
A1, A2, A3
Baa1, Baa2, Baa3, Baa4
Ba1, Ba2, Ba3
B1, B2, B3
Caa1, Caa2, Caa3, Ca
AKBANK AG is rated by Fitch. Long-term credit rating assigned to the bank by Fitch is B+ (highly speculative).
Protected Amount
up to 100,000 EUR
Guarantee Fund
Entschädigungseinrichtung deutscher Banken GmbH (EdB)
Covered Depositors
individuals
companies

Covered Accounts
all deposit accounts

AKBANK AG participates in the deposit guarantee scheme of Germany. This deposit guarantee scheme applies to all deposit accounts made by individuals, companies and covers up to up to 100,000 EUR per bank per depositor. AKBANK AG is a member of Entschädigungseinrichtung deutscher Banken GmbH (EdB) and makes its contributions into it.
Contacts
Alfred-Herrhausen-Allee 3 - 5, Horizon Tower, 65760, Frankfurt am Main, Germany
AKBANK AG is headquartered in Frankfurt Am Main.