Aachener Bank eG is a cooperative bank owned by its members via shares. Aachener Bank eG provides retail banking products and services to its customers focusing on customer requirements and development of local economy, paying special attention to small and medium-sized enterprises (SMEs).
retail banking
business banking
insurance
Clients
natural persons
small- and medium-sized enterprises
companies
current accounts
debit cards
credit cards
savings accounts
time deposit accounts
pension plans
consumer loans
car loans
mortgage loans
trading accounts
International Transfers
SEPA Credit Transfers
SEPA Instant Transfers
SEPA Direct Debits
See Also
Aachener Bank eG delivers its products and services through both direct and indirect channels, namely:

branch

online banking

mobile app

phone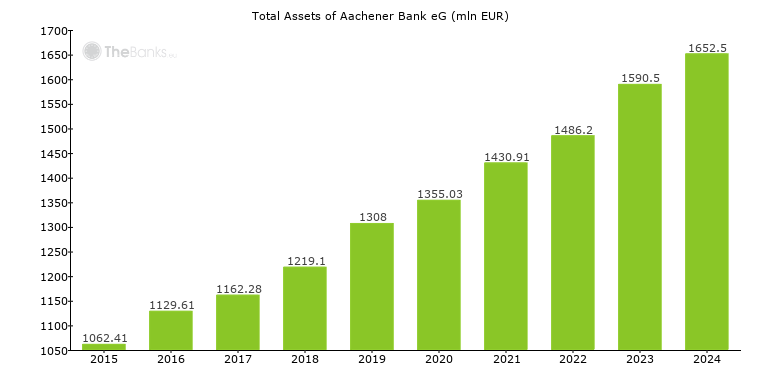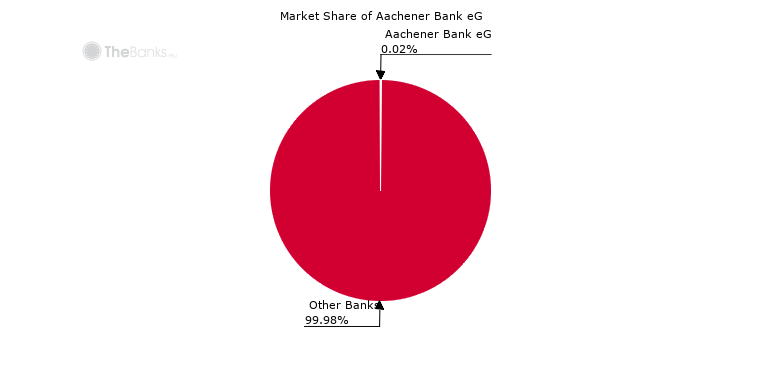 Total Assets (2019)
1,308.00 mln EUR (+7.29%)
In 2019 total assets of Aachener Bank eG were 1 308,00 mln EUR. Aachener Bank eG is the 219th largest cooperative bank in Germany (out of 839 cooperative banks) having market share of 0.13% amongst the banks of this category.
Fitch: AA-
AAA
AA+, AA, AA-
A+, A, A-
BBB+, BBB, BBB-
BB+, BB, BB-
B+, B, B-
CCC, CC, C, RD, D
Moodys: -
Aaa
Aa1, Aa2, Aa3
A1, A2, A3
Baa1, Baa2, Baa3, Baa4
Ba1, Ba2, Ba3
B1, B2, B3
Caa1, Caa2, Caa3, Ca
Aachener Bank eG is rated by Fitch. Long-term credit rating assigned to the bank by Fitch is AA- (very high credit quality).
Guarantee Fund
BVR Institutssicherung GmbH
Protected Amount
up to 100,000 EUR
Eligible Depositors
individuals
companies

Covered Accounts
all deposit accounts

Aachener Bank eG participates in the deposit guarantee scheme of Germany. This deposit guarantee scheme applies to all deposit accounts made by individuals, companies and covers up to up to 100,000 EUR per bank per depositor. Aachener Bank eG is a member of BVR Institutssicherung GmbH and makes its contributions into it.
Contacts
Theaterstraße 5, 52062, Aachen, Germany
10 01 05
Aachener Bank eG is located in Aachen.