Stadtsparkasse Essen is a member of Sparkassen Finanzgruppe and is the 28th largest savings bank in Germany out of 379.
Core business of Stadtsparkasse Essen is providing high-quality retail banking products and services to local residents: private customers, small- and medium-sized enterprises and public-sector institutions.
Traditionally for savings banks Stadtsparkasse Essen is essentially focused on broad participation in developing citizens' prosperity and on increasing local economic strength rather than on maximising profits. This business focus help Stadtsparkasse Essen to avoid excessive risks which is reflected in high credit ratings of Stadtsparkasse Essen.
Clients
natural persons
small- and medium-sized enterprises
public-sector organizations
Area Served
current accounts
debit cards
credit cards
savings accounts
time deposit accounts
pension plans
consumer loans
car loans
mortgage loans
International Transfers
SEPA Credit Transfers
SEPA Instant Transfers
SEPA Direct Debits
See Also
Becoming a client of Stadtsparkasse Essen can be done in a few steps:
1.
Book an appointment
2.
Visit bank branch
Due to regulatory requirements Stadtsparkasse Essen performs KYC/AML checks when establishing business relationships with a new client. While onboarding a private individual Stadtsparkasse Essen will ask him/her to provide the following documents: passport; proof of address. For corporate clients Stadtsparkasse Essen will ask to provide corporate documentation as well as information about controlling persons. Stadtsparkasse Essen may request additional documentation or information depending on the case. Stadtsparkasse Essen performs client's identity verification via branch visit.
Stadtsparkasse Essen delivers its products and services through both direct and indirect channels, namely:

branch

online banking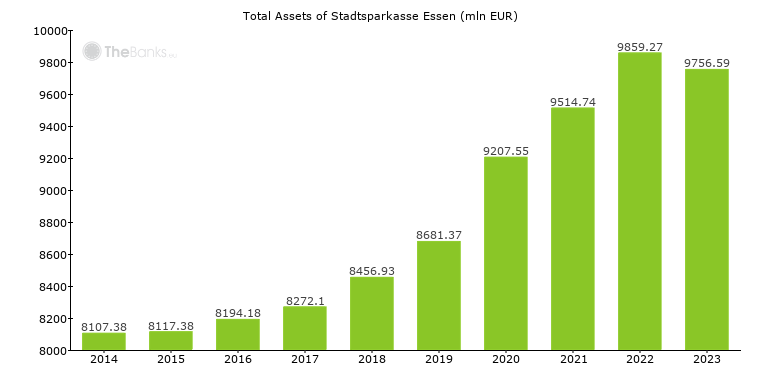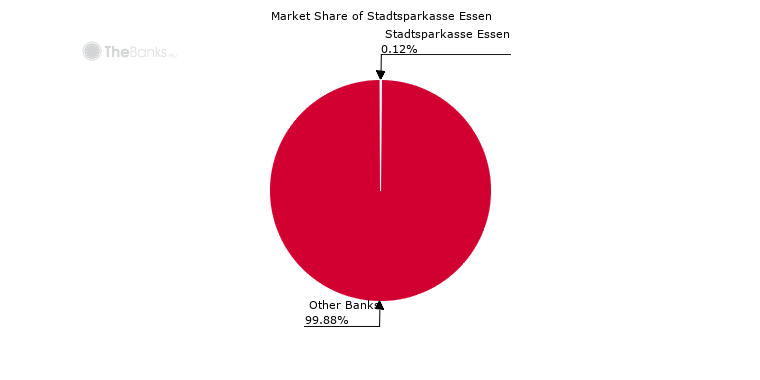 Total Assets (2019)
8,681.37 mln EUR (+2.65%)
Number of Employees (2019)
1,297 (-3.85%)
In 2019 total assets of Stadtsparkasse Essen were 8 681,37 mln EUR. Stadtsparkasse Essen is the 28th largest savings bank (sparkasse) in Germany (out of 379 savings banks (sparkassen)) having market share of 0.67% amongst the banks of this category. Stadtsparkasse Essen had 1 297 employees in 2019.
Fitch: A+
AAA
AA+, AA, AA-
A+, A, A-
BBB+, BBB, BBB-
BB+, BB, BB-
B+, B, B-
CCC, CC, C, RD, D
Moodys: -
Aaa
Aa1, Aa2, Aa3
A1, A2, A3
Baa1, Baa2, Baa3, Baa4
Ba1, Ba2, Ba3
B1, B2, B3
Caa1, Caa2, Caa3, Ca
Stadtsparkasse Essen is rated by Fitch. Long-term credit rating assigned to the bank by Fitch is A+ (high credit quality).
Guarantee Fund
Institutional Protection Scheme of the Savings Banks Finance Group
Protected Amount
up to 100,000 EUR
Eligible Depositors
individuals
companies

Covered Accounts
all deposit accounts

Stadtsparkasse Essen participates in the deposit guarantee scheme of Germany. This deposit guarantee scheme applies to all deposit accounts made by individuals, companies and covers up to up to 100,000 EUR per bank per depositor. Stadtsparkasse Essen is a member of Institutional Protection Scheme of the Savings Banks Finance Group and makes its contributions into it.
Contacts
III. Hagen 43, 45127, Essen, Germany
103722
Stadtsparkasse Essen is located in Essen.