In December 2016 UBS combined most of its wealth management businesses in Europe into one legal entity, UBS Europe SE. UBS Europe SE's legal type (namely, Societas Europaea (SE)) has been chosen to provide UBS with more strategic flexibility. UBS Europe SE offers both affluent individuals and institutions around the world a comprehensive range of advice and investment services.
wealth management
wealth planning
investment management
Clients
affluent individuals
institutions
Area Served

Worldwide
International Transfers
SEPA Credit Transfers
SEPA Instant Transfers
SEPA Direct Debits
See Also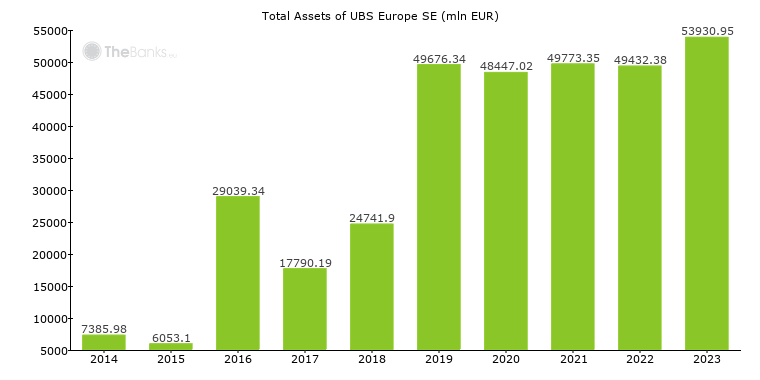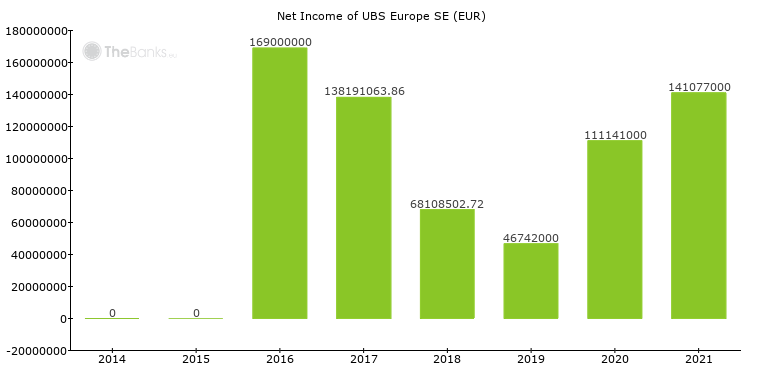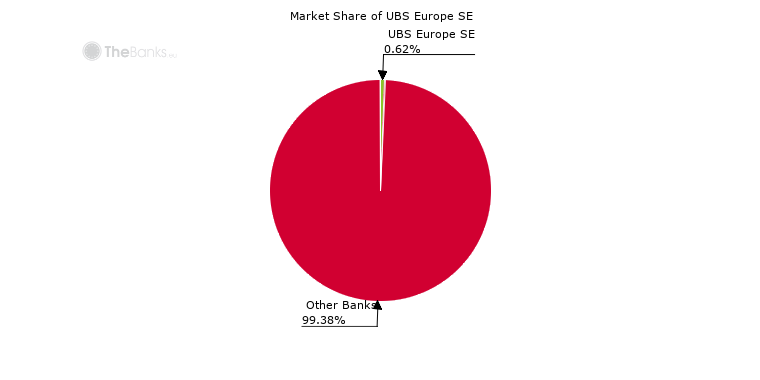 Total Assets (2018)
24,741.90 mln EUR (+39.08%)
Net Income (2018)
68.11 mln EUR (-50.71%)
UBS Europe SE is the 38th largest bank in Germany in terms of total assets. In 2018 its total assets were 24 741,90 mln EUR, providing the bank with the market share of 0.35%. In 2018 the bank's net income was 68,11 mln EUR.
Fitch: -
AAA
AA+, AA, AA-
A+, A, A-
BBB+, BBB, BBB-
BB+, BB, BB-
B+, B, B-
CCC, CC, C, RD, D
Moodys: Aa2
Aaa
Aa1, Aa2, Aa3
A1, A2, A3
Baa1, Baa2, Baa3, Baa4
Ba1, Ba2, Ba3
B1, B2, B3
Caa1, Caa2, Caa3, Ca
UBS Europe SE is rated by Moody's. Long-term credit rating assigned to the bank by Moody's is Aa2 (high grade).
Guarantee Fund

Entschädigungseinrichtung deutscher Banken GmbH (EdB)
Protected Amount
up to 100,000 EUR
Eligible Depositors
individuals
companies

Covered Accounts
all deposit accounts

UBS Europe SE participates in the deposit guarantee scheme of Germany. This deposit guarantee scheme applies to all deposit accounts made by individuals, companies and covers up to up to 100,000 EUR per bank per depositor. UBS Europe SE is a member of Entschädigungseinrichtung deutscher Banken GmbH (EdB) and makes its contributions into it.
Member of Group

UBS (Switzerland)
Contacts
Bockenheimer Landstraße 2 - 4 (Opernturm), 60306, Frankfurt am Main, Germany
10 20 42
UBS Europe SE is headquartered in Frankfurt Am Main.