Jyske Bank was founded in 1967 as a result of a merger of four local Danish banks operating in Central Jutland. Now Jyske Bank is one of the largest banks in Denmark providing a broad range of retail, private and corporate banking products and services to individuals and business customers. Jyske Bank offers international private banking via its foreign branches and subsidiaries.
International Transfers
SEPA Credit Transfers
SEPA Instant Transfers
SEPA Direct Debits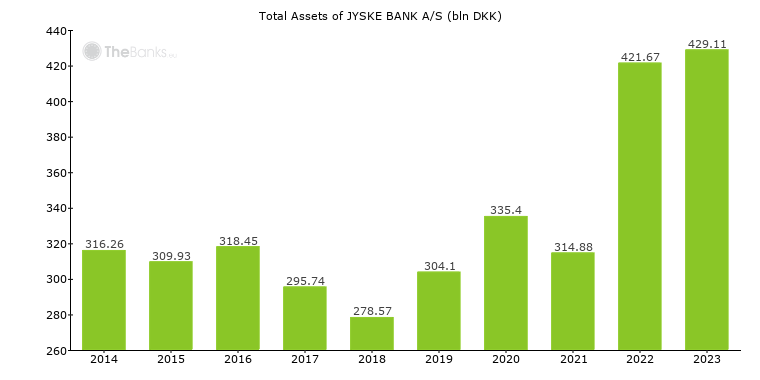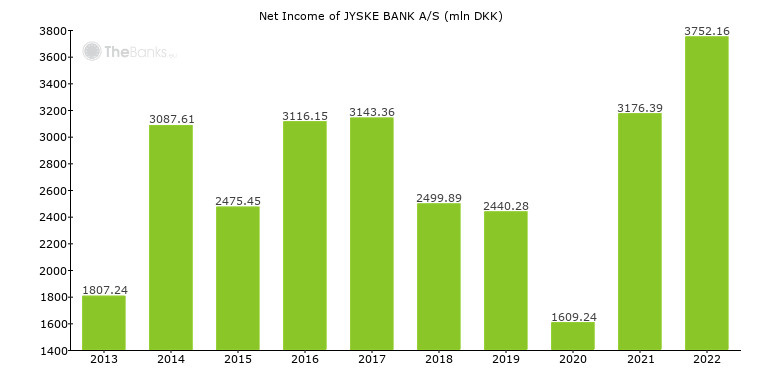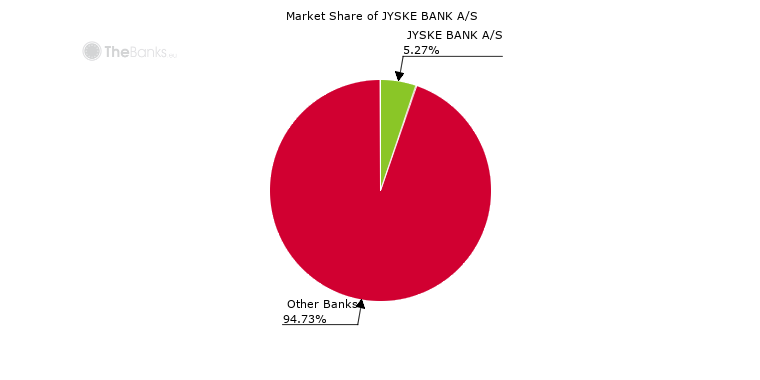 Total Assets (2018)
278.57 bln DKK (-5.81%)
Net Income (2018)
2,499.89 mln DKK (-20.47%)
JYSKE BANK A/S is the 7th largest bank in Denmark in terms of total assets. In 2018 its total assets were 278,57 bln DKK, providing the bank with the market share of 3.82%. In 2018 the bank's net income was 2 499,89 mln DKK.
Fitch: -
AAA
AA+, AA, AA-
A+, A, A-
BBB+, BBB, BBB-
BB+, BB, BB-
B+, B, B-
CCC, CC, C, RD, D
Moodys: Aa3
Aaa
Aa1, Aa2, Aa3
A1, A2, A3
Baa1, Baa2, Baa3, Baa4
Ba1, Ba2, Ba3
B1, B2, B3
Caa1, Caa2, Caa3, Ca
JYSKE BANK A/S is rated by Moody's. Long-term credit rating assigned to the bank by Moody's is Aa3 (high grade).
Protected Amount
up to 100,000 EUR
Guarantee Fund
Finansiel Stabilitet
Covered Depositors
natural persons
legal entities

Covered Accounts
cash deposits

JYSKE BANK A/S participates in the deposit guarantee scheme of Denmark. This deposit guarantee scheme applies to cash deposits made by natural persons, legal entities and covers up to up to 100,000 EUR per bank per depositor. JYSKE BANK A/S is a member of Finansiel Stabilitet and makes its contributions into it.
Head of Group

Jyske Bank (Denmark)
Contacts
Vestergade 8 - 16, 8600, Silkeborg, Denmark
JYSKE BANK A/S is headquartered in Silkeborg.