Contacts
Address
28046, Spain, Madrid, Ps de la Castellana 81 Pl. 5
Bank Identifiers
Any bank can be identified for different purposes and hence can have several different identifiers.
BIC
BIC (Business Identifier Code) is a the mostly used international identifier of financial institutions. SWIFT is the registration authority for BICs. BICs are used in financial transactions, client and counterparty data bases, compliance documents and many others.
BIC
OCBAESM1
Bank BIC Code
OCBA
Country Code
ES (Spain)
Location Code
M1
Branch Code
-
A BIC consists of eight or eleven characters, comprising a financial institution code (four characters), a country code (two characters), a location code (two characters) and, optionally, a branch code (three characters).
MFI ID
MFI ID (Monetary Financial Institution Identifier) is a code, unique to each institution in the MFI list provided by ECB (European Central Bank). MFI ID is hence applicable to MFIs resident in the European Union.
The code is alphanumerical, with the first two digits representing the two-digit ISO code for the country of residence of the MFI and the remaining number of digits (no limit has been specified) is any combination of alphanumerical characters.
Deposit Guarantee
Deposit Guarantee Schemes compensate certain deposits held by depositors of a bank that becomes unable to meet its obligations.
All credit institutions operating in Spain are obliged to participate in Spanish deposit guarantee scheme.
In the case of Banco Occidental, S.A. failure, eligible depositors having covered accounts in this bank will be paid out the following compensation:
Eligible Depositors
natural persons, legal entities
Covered Accounts
credit balances on accounts, nominative deposit certificates constituted in the EU
Maximum Protected Amount
100 000 EUR
Paid In Currency
EUR
Further Information: Deposit Guarantee Scheme in Spain
ECB Minimum Reserves Requirements (MRR)
Minimum reserves is the minimum amount of reserves a credit institution is required to hold with a central bank.
Subject to MRR by ECB
Yes
Exempt from MRR by ECB
No
Financial Positions
In 2013 total assets of Banco Occidental, S.A. were 18.08 mln EUR. Growth compared to the previous period (2012) was 0.41%. The evolution of the total assets of Banco Occidental, S.A. is shown at Chart 1 below.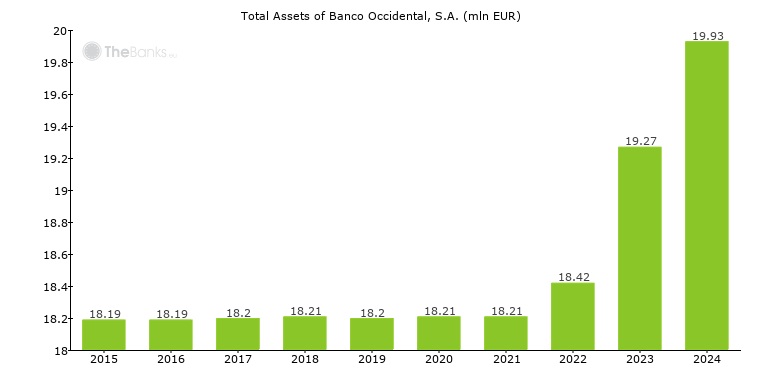 Recent changes in total assets of Banco Occidental, S.A. and its main components are shown in Table 1.
| | | | |
| --- | --- | --- | --- |
| | 2012 | 2013 | % Change |
| Cash and deposits with Central Banks | 0.0 | 0.0 | 0.00% |
| Loans to banks | 18.0 | 18.1 | +0.43% |
| Loans to other clients | 0.0 | 0.0 | -25.00% |
| Total Assets | 18.0 | 18.1 | +0.41% |
Recent changes in total liabilities of Banco Occidental, S.A. and its main components are shown in Table 2.
| | | | |
| --- | --- | --- | --- |
| | 2012 | 2013 | % Change |
| Bank deposits | 0.0 | 0.0 | 0.00% |
| Deposits from other clients | 0.0 | 0.0 | 0.00% |
| Total Liabilities | 18.0 | 18.1 | +0.41% |
Related Information on Spain
Economy and Banking Sector of Spain