BNP Paribas is a French banking and financial services institution. BNP Paribas is one of the largest banks in Europe and in the world. BNP Paribas operates globally, offering retail and corporate and institutional banking products and services at both domestic and international markets.
Bank Category
Branches of foreign banks
retail banking
private banking
business banking
asset management
wealth management
corporate banking
investment banking
securities services
Area Served
France
current accounts
debit cards
credit cards
savings accounts
time deposit accounts
investment funds
car loans
mortgage loans
International Transfers
SEPA Credit Transfers
SEPA Instant Transfers
SEPA Direct Debits
See Also
Common Shares
Listed Entity
BNP PARIBAS
ISIN
FR0000131104
Stock Exchange

Euronext Paris (XPAR)
Ticker
BNP
See Also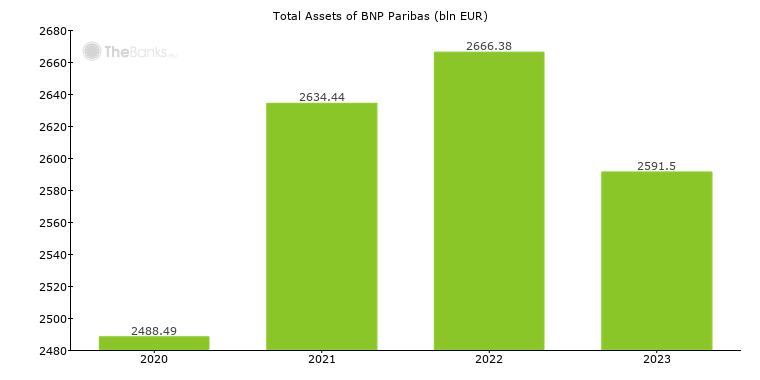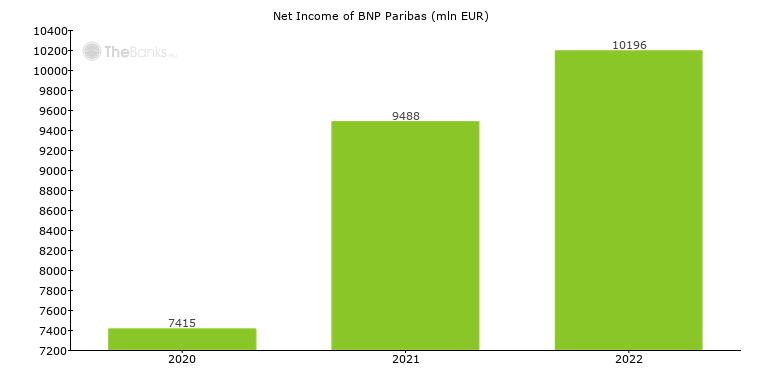 Total Assets (2019)
2,164.71 bln EUR (+6.07%)
Net Income (2019)
8,583.00 mln EUR (+7.22%)
In 2019 total assets of BNP Paribas were 2 164,71 bln EUR. In 2019 the bank's net income was 8 583,00 mln EUR.
Fitch: A+
AAA
AA+, AA, AA-
A+, A, A-
BBB+, BBB, BBB-
BB+, BB, BB-
B+, B, B-
CCC, CC, C, RD, D
Moodys: Aa3
Aaa
Aa1, Aa2, Aa3
A1, A2, A3
Baa1, Baa2, Baa3, Baa4
Ba1, Ba2, Ba3
B1, B2, B3
Caa1, Caa2, Caa3, Ca
BNP Paribas is rated by Fitch, Moody's. Long-term credit rating assigned to the bank by Fitch is A+ (high credit quality). Long-term credit rating assigned to the bank by Moody's is Aa3 (high grade).
Guarantee Fund

Fonds de Garantie des Dépôts et de Résolution (FGDR)
Protected Amount
up to 100,000 EUR
Eligible Depositors
natural persons
legal entities

Covered Accounts
all deposit accounts

BNP Paribas participates in the deposit guarantee scheme of France. This deposit guarantee scheme applies to all deposit accounts made by natural persons, legal entities and covers up to up to 100,000 EUR per bank per depositor. BNP Paribas is a member of Fonds de Garantie des Dépôts et de Résolution (FGDR) and makes its contributions into it.
Head of Group

BNP Paribas (France)
Contacts
16 BOULEVARD DES ITALIENS, 75009, PARIS, France
BNP Paribas is located in PARIS.
Social Networks
BNP Paribas has profiles at the following social networks: