Banca Sella Holding is a parent company of the Banca Sella Group, carrying out management, coordination and control activities, defining the strategic guidelines and guidelines for the group's development. Banca Sella Holding also performs finance activities (trading in own account, central treasury management, access to financial markets and correspondent banking services).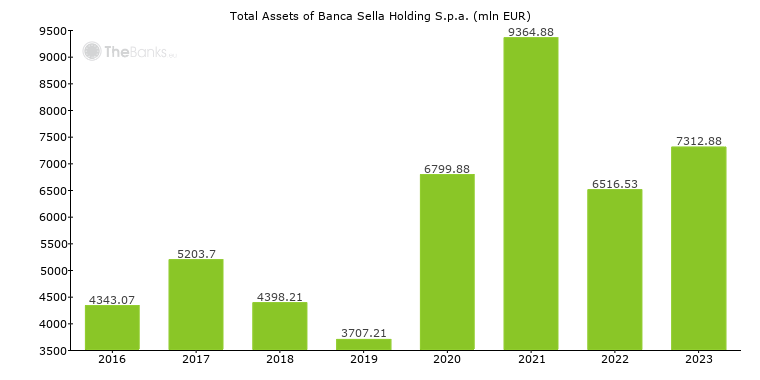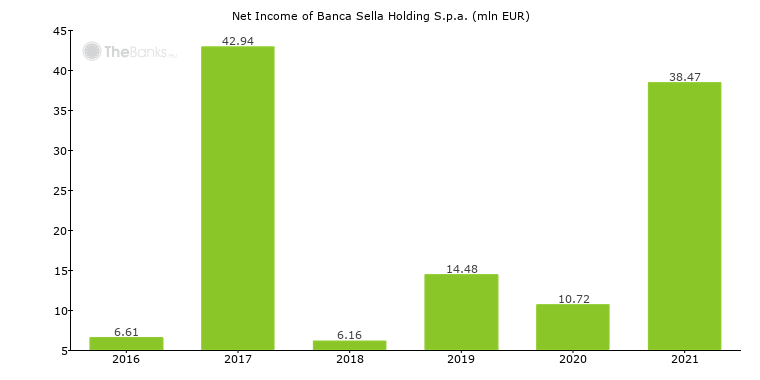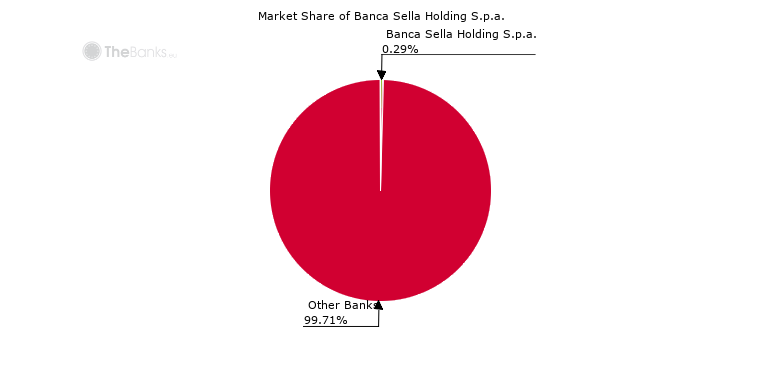 Total Assets (2018)
4,398.21 mln EUR (-15.48%)
Net Income (2018)
616,000.00 EUR (-98.57%)
Number of Employees (2018)
284 (-2.41%)
Banca Sella Holding S.p.a. is the 47th largest bank in Italy in terms of total assets. In 2018 its total assets were 4 398,21 mln EUR, providing the bank with the market share of 0.17%. In 2018 the bank's net income was 616 000,00 EUR. Banca Sella Holding S.p.a. had 284 employees in 2018.
Fitch: -
AAA
AA+, AA, AA-
A+, A, A-
BBB+, BBB, BBB-
BB+, BB, BB-
B+, B, B-
CCC, CC, C, RD, D
Moodys: Baa3
Aaa
Aa1, Aa2, Aa3
A1, A2, A3
Baa1, Baa2, Baa3, Baa4
Ba1, Ba2, Ba3
B1, B2, B3
Caa1, Caa2, Caa3, Ca
Banca Sella Holding S.p.a. is rated by Moody's. Long-term credit rating assigned to the bank by Moody's is Baa3 (lower medium grade).
Protected Amount
up to 100,000 EUR
Guarantee Fund
Interbank Deposit Protection Fund
Covered Depositors
natural persons
legal entities

Covered Accounts
current accounts
cash accounts
time deposits

Banca Sella Holding S.p.a. participates in the deposit guarantee scheme of Italy. This deposit guarantee scheme applies to current accounts, cash accounts, time deposits made by natural persons, legal entities and covers up to up to 100,000 EUR per bank per depositor. Banca Sella Holding S.p.a. is a member of Interbank Deposit Protection Fund and makes its contributions into it.
Contacts
PIAZZA GAUDENZIO SELLA, 1, 13900, BIELLA, Italy
Banca Sella Holding S.p.a. is headquartered in BIELLA.