Established in 1972, Banca UBAE is a partner for companies and financial institutions looking to establish or expand business ties between Europe and North and Sub-Saharan Africa, the Middle East, the Indian subcontinent. Bank UBAE provides a range of services in international corporate banking, including corporate finance, trade finance and syndicated loans.
corporate banking
leasing
factoring
Area Served
Italy
Germany
export financing
letters of credit
bank guarantees
documents for collection
treasury services
forex services
International Transfers
SEPA Credit Transfers
SEPA Instant Transfers
SEPA Direct Debits
See Also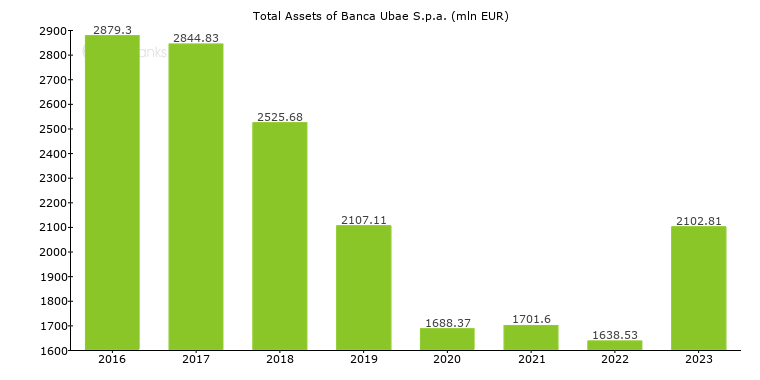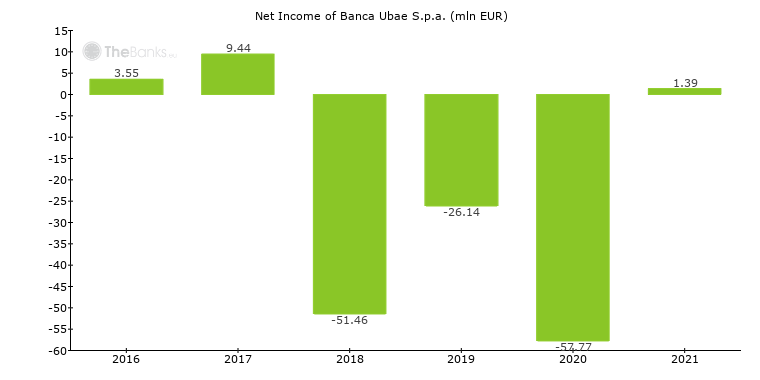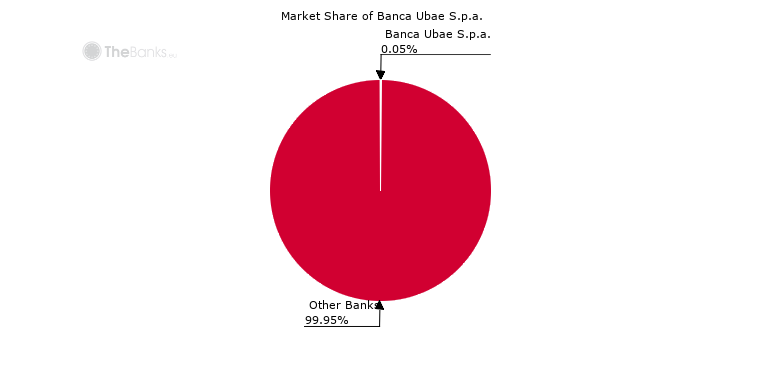 Total Assets (2019)
2,107.11 mln EUR (-16.57%)
Net Income (2019)
-26,144,000.00 EUR (-49.19%)
Number of Employees (2019)
186 (-6.06%)
Banca Ubae S.p.a. is the 74th largest bank in Italy in terms of total assets. In 2019 its total assets were 2 107,11 mln EUR, providing the bank with the market share of 0.07%. In 2019 the bank's net income was -26,14 mln EUR. Banca Ubae S.p.a. had 186 employees in 2019.
Fitch: B+
AAA
AA+, AA, AA-
A+, A, A-
BBB+, BBB, BBB-
BB+, BB, BB-
B+, B, B-
CCC, CC, C, RD, D
Moodys: -
Aaa
Aa1, Aa2, Aa3
A1, A2, A3
Baa1, Baa2, Baa3, Baa4
Ba1, Ba2, Ba3
B1, B2, B3
Caa1, Caa2, Caa3, Ca
Banca Ubae S.p.a. is rated by Fitch. Long-term credit rating assigned to the bank by Fitch is B+ (highly speculative).
Guarantee Fund

Interbank Deposit Protection Fund (FITD)
Protected Amount
up to 100,000 EUR
Eligible Depositors
natural persons
legal entities

Covered Accounts
current accounts
cash accounts
time deposits

Banca Ubae S.p.a. participates in the deposit guarantee scheme of Italy. This deposit guarantee scheme applies to current accounts, cash accounts, time deposits made by natural persons, legal entities and covers up to up to 100,000 EUR per bank per depositor. Banca Ubae S.p.a. is a member of Interbank Deposit Protection Fund (FITD) and makes its contributions into it.
Contacts
VIA QUINTINO SELLA, 2, 00187, ROMA, Italy
Banca Ubae S.p.a. is headquartered in ROMA.
Social Networks
Banca Ubae S.p.a. has profiles at the following social networks: