Bank Credito Emiliano Spa (Credem) is a modern bank with a centuries-long tradition. The bank was founded in 1910 by entrepreneurs of Reggio Emilia under the name of 'Banca Agricola Commerciale of Reggio Emilia'. The current name, Credito Emiliano SpA, has been used since 1983, after the acquisition of Bank Belinzaghi Milan followed by significant growth outside the regional boundaries. Credito Emiliano is a universal bank offering to its customers retail, private and corporate banking products and services combined with financial advising. Credito Emiliano delivers its solutions using multi-channel distribution network, consisting of traditional channels (bank branches and dedicated stores), remote banking systems (telephone banking and internet banking), and advanced remote banking solutions.
retail banking
private banking
corporate banking
insurance
current accounts
debit cards
credit cards
prepaid cards
savings accounts
time deposit accounts
consumer loans
mortgage loans
mutual funds
business accounts
business cards
business loans
leasing
factoring
International Transfers
SEPA Credit Transfers
SEPA Instant Transfers
SEPA Direct Debits
See Also
Credito Emiliano S.p.a. delivers its products and services through both direct and indirect channels, namely:

branch

online banking

mobile app
Common Shares
Listed Entity
Credito Emiliano
ISIN
IT0003121677
Stock Exchange

Borsa Italiana (XMIL)
Ticker
CE
See Also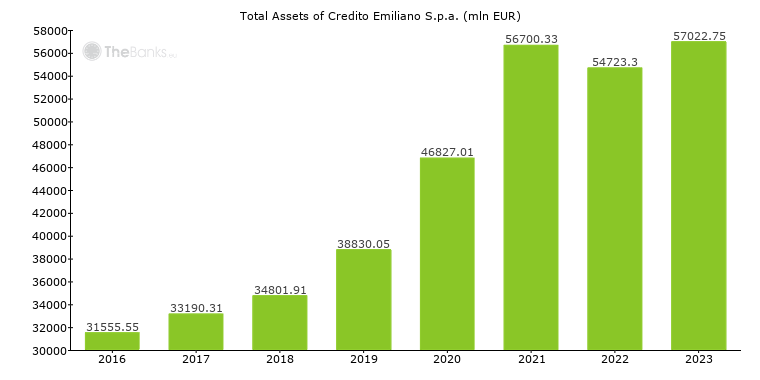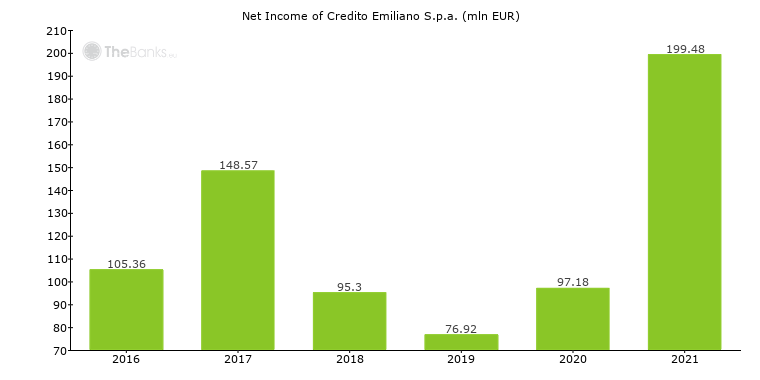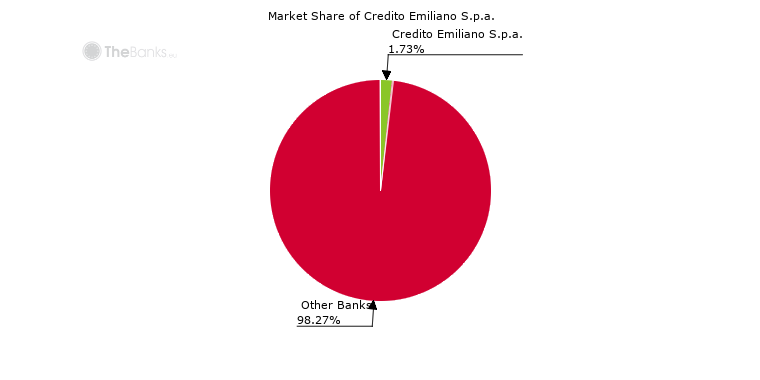 Total Assets (2018)
34,801.91 mln EUR (+4.86%)
Net Income (2018)
953,000.00 EUR (-99.36%)
Number of Employees (2018)
5,468 (+0.68%)
Credito Emiliano S.p.a. is the 15th largest bank in Italy in terms of total assets. In 2018 its total assets were 34 801,91 mln EUR, providing the bank with the market share of 1.32%. In 2018 the bank's net income was 953 000,00 EUR. Credito Emiliano S.p.a. had 5 468 employees in 2018.
Fitch: BBB-
AAA
AA+, AA, AA-
A+, A, A-
BBB+, BBB, BBB-
BB+, BB, BB-
B+, B, B-
CCC, CC, C, RD, D
Moodys: Baa1
Aaa
Aa1, Aa2, Aa3
A1, A2, A3
Baa1, Baa2, Baa3, Baa4
Ba1, Ba2, Ba3
B1, B2, B3
Caa1, Caa2, Caa3, Ca
Credito Emiliano S.p.a. is rated by Fitch, Moody's. Long-term credit rating assigned to the bank by Fitch is BBB- (good credit quality). Long-term credit rating assigned to the bank by Moody's is Baa1 (lower medium grade).
Guarantee Fund

Interbank Deposit Protection Fund (FITD)
Protected Amount
up to 100,000 EUR
Eligible Depositors
natural persons
legal entities

Covered Accounts
current accounts
cash accounts
time deposits

Credito Emiliano S.p.a. participates in the deposit guarantee scheme of Italy. This deposit guarantee scheme applies to current accounts, cash accounts, time deposits made by natural persons, legal entities and covers up to up to 100,000 EUR per bank per depositor. Credito Emiliano S.p.a. is a member of Interbank Deposit Protection Fund (FITD) and makes its contributions into it.
Contacts
VIA EMILIA S. PIETRO, 4, 42100, REGGIO NELL'EMILIA, Italy
Credito Emiliano S.p.a. is headquartered in REGGIO NELL'EMILIA.
Social Networks
Credito Emiliano S.p.a. has profiles at the following social networks: