Van Lanschot is an independent bank focused on private banking, asset management and merchant banking. Founded in 1737, Van Lanschot is the oldest independent bank in the Netherlands. Van Lanschot's private banking offers its products and services to a wide spectrum of clients: high-net-worth individuals, entrepreneurs and family businesses, business professionals and executives, healthcare professionals, foundations and associations.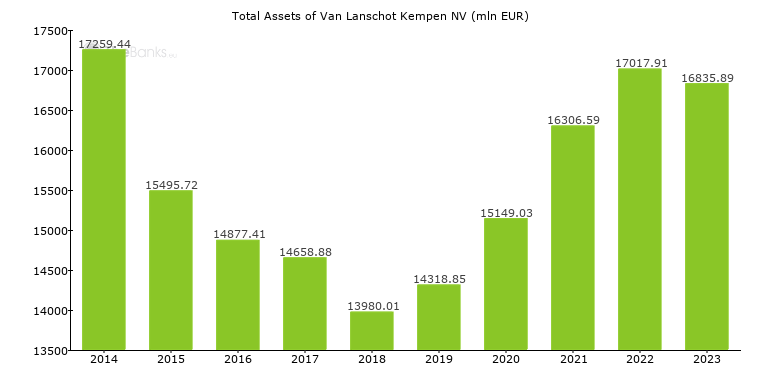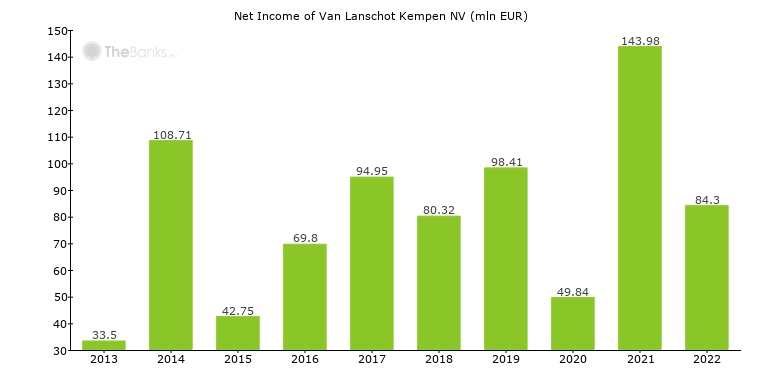 Total Assets (2018)
13,980.01 mln EUR

(-4.63%)
Net Income (2018)
80.32 mln EUR

(-15.41%)
Van Lanschot NV is the 7th largest bank in the Netherlands in terms of total assets. In 2018 its total assets were 13 980,01 mln EUR. In 2018 the bank's net income was 80,32 mln EUR.
Fitch: BBB+
AAA
AA+, AA, AA-
A+, A, A-
BBB+, BBB, BBB-
BB+, BB, BB-
B+, B, B-
CCC, CC, C, RD, D
Moodys: -
Aaa
Aa1, Aa2, Aa3
A1, A2, A3
Baa1, Baa2, Baa3, Baa4
Ba1, Ba2, Ba3
B1, B2, B3
Caa1, Caa2, Caa3, Ca
Van Lanschot NV is rated by Fitch. Long-term credit rating assigned to the bank by Fitch is BBB+ (good credit quality).
Protected Amount
up to 100,000 EUR
Guarantee Fund
Deposit Guarantee Fund (DGF)
Covered Depositors
•
private individuals
•
legal entities
Covered Accounts
•
current accounts
•
savings accounts
•
term deposits
Van Lanschot NV participates in the deposit guarantee scheme of the Netherlands. This deposit guarantee scheme applies to current accounts, savings accounts, term deposits made by private individuals, legal entities and covers up to up to 100,000 EUR per bank per depositor. Van Lanschot NV is a member of Deposit Guarantee Fund (DGF) and makes its contributions into it.
Contacts
HG STEENWG 29, 5200 HC, `s-Hertogenbosch, Netherlands
Van Lanschot NV is headquartered in `s-Hertogenbosch.