Hof Hoorneman Bankiers N.V. is an independent private bank, which specializes in providing private banking and asset management products and services. Hof Hoorneman Bankiers adds value to the assets of its clients in a client-oriented approach with distinctive investment results and professionally managed long-term relationships.
private banking
asset management
investment management
online investing
investment funds
Clients
high net-worth individuals
Area Served
Netherlands
International Transfers
SEPA Credit Transfers
SEPA Instant Transfers
SEPA Direct Debits
Becoming a client of Hof Hoorneman Bankiers NV can be done in a few steps:
1.
Book an appointment
2.
Visit bank branch
Hof Hoorneman Bankiers NV performs client's identity verification via branch visit.
Hof Hoorneman Bankiers NV delivers its products and services through both direct and indirect channels, namely: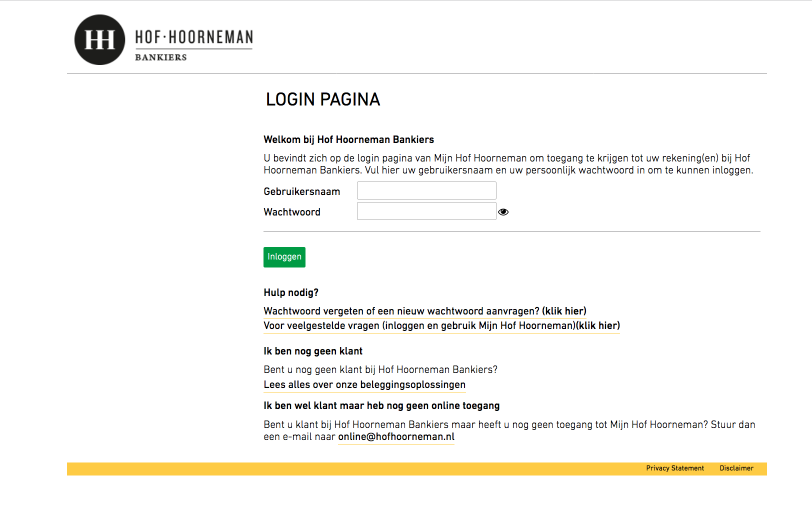 branch

online banking

mobile app
Protected Amount
up to 100,000 EUR
Guarantee Fund
Deposit Guarantee Fund (DGF)
Covered Depositors
private individuals
legal entities

Covered Accounts
current accounts
savings accounts
term deposits

Hof Hoorneman Bankiers NV participates in the deposit guarantee scheme of the Netherlands. This deposit guarantee scheme applies to current accounts, savings accounts, term deposits made by private individuals, legal entities and covers up to up to 100,000 EUR per bank per depositor. Hof Hoorneman Bankiers NV is a member of Deposit Guarantee Fund (DGF) and makes its contributions into it.
Contacts
Oosthaven 52, 2800 CG, Gouda, Netherlands
3155
Hof Hoorneman Bankiers NV is headquartered in Gouda.
Social Networks
Hof Hoorneman Bankiers NV has profiles at the following social networks: