Novo Banco is a successor of Banco Espírito Santo (BES) establised in August 2014 by the Bank of Portugal as a bridge bank (or a "good bank") to rescue assets and liabilities of BES. The only owner of Novo Banco is a special bank Resolution Fund, the fund will continue to own the bank until the bank is sold to new owners. Novo Banco provides products and services in retail and investment banking, asset management and insurance.
retail banking
corporate banking
insurance
Area Served
Portugal
Germany
current accounts
debit cards
credit cards
prepaid cards
savings accounts
investment funds
consumer loans
car loans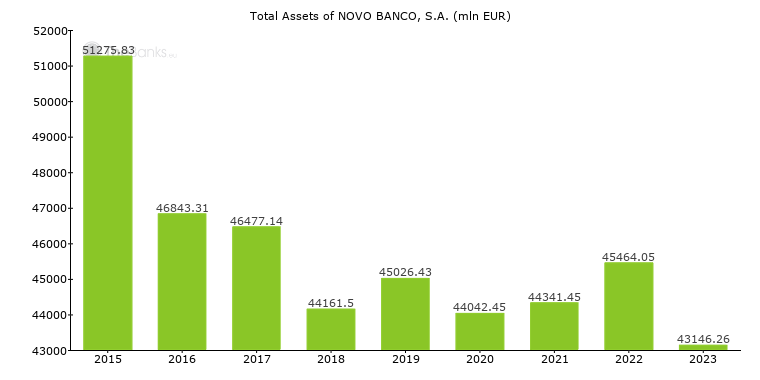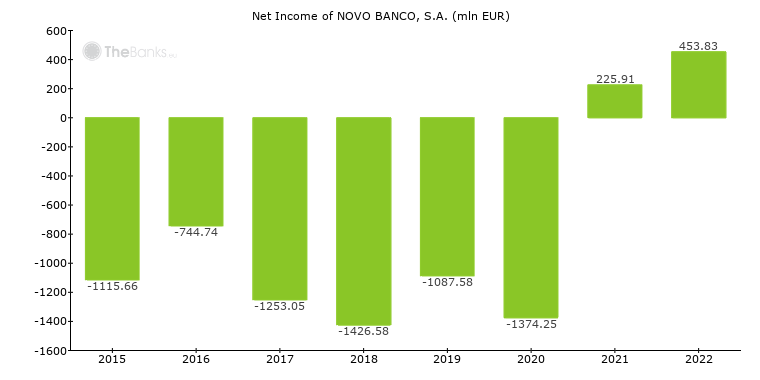 Total Assets (2018)
44,161.50 mln EUR (-15.16%)
Net Income (2018)
-1,426,581,000.00 EUR (+2.23%)
In 2018 total assets of Novo Banco, SA were 44 161,50 mln EUR. In 2018 the bank's net income was -1 426,58 mln EUR.
Fitch: -
AAA
AA+, AA, AA-
A+, A, A-
BBB+, BBB, BBB-
BB+, BB, BB-
B+, B, B-
CCC, CC, C, RD, D
Moodys: Caa1
Aaa
Aa1, Aa2, Aa3
A1, A2, A3
Baa1, Baa2, Baa3, Baa4
Ba1, Ba2, Ba3
B1, B2, B3
Caa1, Caa2, Caa3, Ca
Novo Banco, SA is rated by Moody's. Long-term credit rating assigned to the bank by Moody's is Caa1 (substantial risks).
Protected Amount
up to 100,000 EUR
Guarantee Fund
Fundo de Garantia de Depósitos (FGD)
Covered Depositors
natural persons
legal entities

Covered Accounts
current accounts
savings accounts
time deposit accounts

Novo Banco, SA participates in the deposit guarantee scheme of Portugal. This deposit guarantee scheme applies to current accounts, savings accounts, time deposit accounts made by natural persons, legal entities and covers up to up to 100,000 EUR per bank per depositor. Novo Banco, SA is a member of Fundo de Garantia de Depósitos (FGD) and makes its contributions into it.
Contacts
Av. da Liberdade, 195, 1250-142, Lisboa, Portugal
Novo Banco, SA is headquartered in Lisboa.