ProCredit Bank S.A is a member of ProCredit Group, a financial group headquartered in Germany and consisting of 13 banks operating in developing countries of Eastern Europe and Latin America. The group's business focus is providing lending products to small- and medium-sized companies. ProCredit Group also provides a range of retail banking products to natural persons. ProCredit Bank S.A operates as a subsidiary of ProCredit Bank AG (Germany).
retail banking
corporate banking
current accounts
debit cards
savings accounts
time deposit accounts
company accounts
international payments
credit lines to finance working capital
amortization loans
annuity term loans
bank guarantees
International Transfers
SEPA Credit Transfers
SEPA Instant Transfers
SEPA Direct Debits
See Also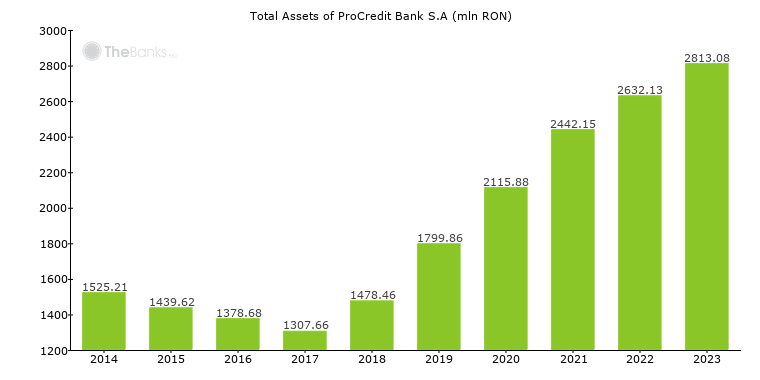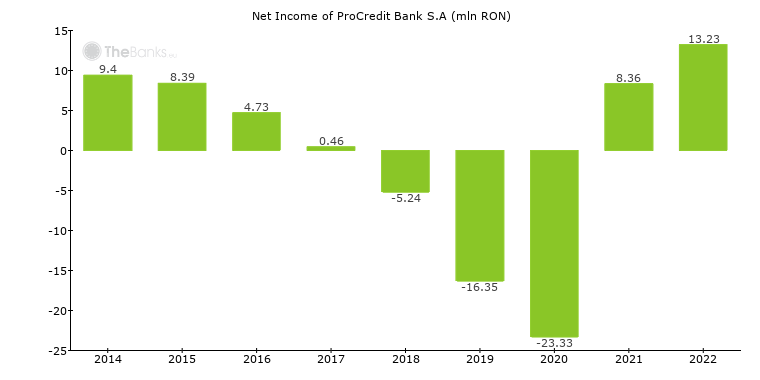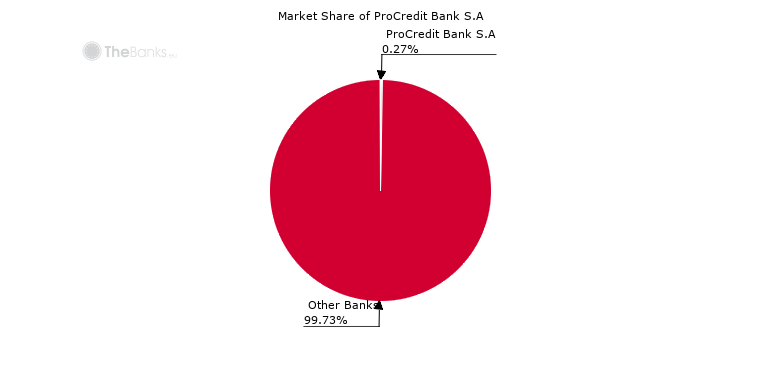 Total Assets (2019)
1,799.86 mln RON (+21.74%)
Net Income (2019)
-16,354,765.00 RON (+212.04%)
ProCredit Bank S.A is the 24th largest bank in Romania in terms of total assets. In 2019 its total assets were 1 799,86 mln RON, providing the bank with the market share of 0.37%. In 2019 the bank's net income was -16,35 mln RON.
Fitch: BBB-
AAA
AA+, AA, AA-
A+, A, A-
BBB+, BBB, BBB-
BB+, BB, BB-
B+, B, B-
CCC, CC, C, RD, D
Moodys: -
Aaa
Aa1, Aa2, Aa3
A1, A2, A3
Baa1, Baa2, Baa3, Baa4
Ba1, Ba2, Ba3
B1, B2, B3
Caa1, Caa2, Caa3, Ca
ProCredit Bank S.A is rated by Fitch. Long-term credit rating assigned to the bank by Fitch is BBB- (good credit quality).
Guarantee Fund

Bank Deposit Guarantee Fund (FGDB)
Protected Amount
up to 100,000 EUR
Eligible Depositors
natural persons
legal entities

Covered Accounts
any credit balance

ProCredit Bank S.A participates in the deposit guarantee scheme of Romania. This deposit guarantee scheme applies to any credit balance made by natural persons, legal entities and covers up to up to 100,000 EUR per bank per depositor. ProCredit Bank S.A is a member of Bank Deposit Guarantee Fund (FGDB) and makes its contributions into it.
Contacts
Str. Buzesti nr.62-64, et.1, et.2 si et.4, sector 1, 011017, BUCURESTI, Romania
ProCredit Bank S.A is headquartered in BUCURESTI.