Nordea is a Swedish financial services group, the largest one in the Nordic and Baltic region. Nordea focused on prodiving corporate and institutional banking as well as retail and private banking products and services. Nordea also offers life insurance and pensions products.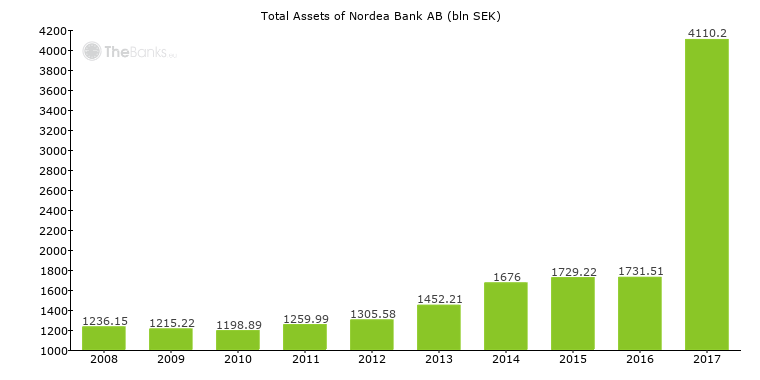 Total Assets (2017)
4,110.20 bln SEK (+137.38%)
Number of Employees (2017)
6,912 (+1.98%)
In 2017 total assets of Nordea Bank AB were 4 110,20 bln SEK. Nordea Bank AB had 6 912 employees in 2017.
Fitch: AA-
AAA
AA+, AA, AA-
A+, A, A-
BBB+, BBB, BBB-
BB+, BB, BB-
B+, B, B-
CCC, CC, C, RD, D
Moodys: -
Aaa
Aa1, Aa2, Aa3
A1, A2, A3
Baa1, Baa2, Baa3, Baa4
Ba1, Ba2, Ba3
B1, B2, B3
Caa1, Caa2, Caa3, Ca
Nordea Bank AB is rated by Fitch. Long-term credit rating assigned to the bank by Fitch is AA- (very high credit quality).
Protected Amount
up to 950,000 SEK
Guarantee Fund
Swedish National Debt Office
Covered Depositors
private individuals
legal entities

Covered Accounts
deposits in all types of accounts

Nordea Bank AB participates in the deposit guarantee scheme of Sweden. This deposit guarantee scheme applies to deposits in all types of accounts made by private individuals, legal entities and covers up to up to 950,000 SEK per bank per depositor. Nordea Bank AB is a member of Swedish National Debt Office and makes its contributions into it.
Member of Group

Nordea (Finland)
Contacts
Smålandsgatan 17,N/A, 105 71, Stockholm, Sweden
Nordea Bank AB was headquartered in Stockholm.
Social Networks
Nordea Bank AB has profiles at the following social networks: