Founded in 1836, Landshypotek Bank is specialized in providing financing solutions to Swedish farmers and foresters. Landshypotek Bank provides loans, insurance, savings, investment opportunities, and payment options through in-house services or in cooperation with partners.
International Transfers
SEPA Credit Transfers
SEPA Instant Transfers
SEPA Direct Debits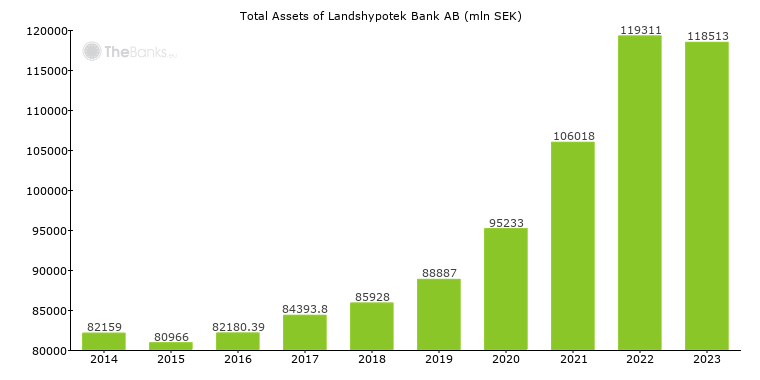 Total Assets (2018)
85,928.00 mln SEK (+1.82%)
Number of Employees (2018)
190 (+9.83%)
Landshypotek Bank AB is the 8th largest bank in Sweden in terms of total assets. In 2018 its total assets were 85 928,00 mln SEK. Landshypotek Bank AB had 190 employees in 2018.
Fitch: A
AAA
AA+, AA, AA-
A+, A, A-
BBB+, BBB, BBB-
BB+, BB, BB-
B+, B, B-
CCC, CC, C, RD, D
Moodys: -
Aaa
Aa1, Aa2, Aa3
A1, A2, A3
Baa1, Baa2, Baa3, Baa4
Ba1, Ba2, Ba3
B1, B2, B3
Caa1, Caa2, Caa3, Ca
Landshypotek Bank AB is rated by Fitch. Long-term credit rating assigned to the bank by Fitch is A (high credit quality).
Protected Amount
up to 950,000 SEK
Guarantee Fund
Swedish National Debt Office
Covered Depositors
private individuals
legal entities

Covered Accounts
deposits in all types of accounts

Landshypotek Bank AB participates in the deposit guarantee scheme of Sweden. This deposit guarantee scheme applies to deposits in all types of accounts made by private individuals, legal entities and covers up to up to 950,000 SEK per bank per depositor. Landshypotek Bank AB is a member of Swedish National Debt Office and makes its contributions into it.
Contacts
Regeringsgatan 48, 111 56, Stockholm, Sweden
Box 14092
Landshypotek Bank AB is headquartered in Stockholm.
Social Networks
Landshypotek Bank AB has profiles at the following social networks: