Incorporated in 1974, Altajir Bank is specializing in providing deposit products (call and term deposits) to offshore individuals and companies.
Altajir Bank has Category B banking license number 74001 issued by the Cayman Islands Monetary Authority. This type of license allows Altajir Bank to conduct banking and trustee operations with non-residents and domestic banking business with other Cayman Islands licenced entities.
Bank Category
Category B (Banking & Trust)
Clients
offshore individuals
offshore companies
Area Served

internationally
savings accounts
time deposit accounts
Becoming a client of Altajir Bank can be done in a few steps: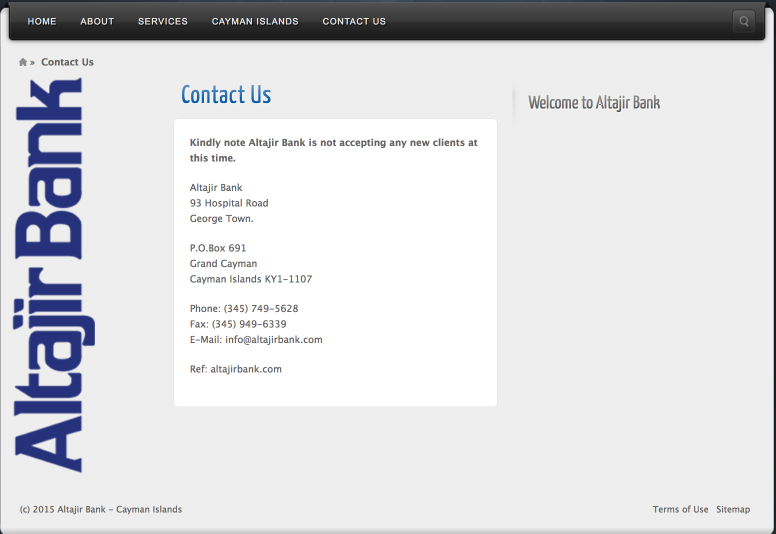 1.
Submit online application
Due to regulatory requirements Altajir Bank performs KYC/AML checks when establishing business relationships with a new client. While onboarding a private individual Altajir Bank will ask him/her to provide the following documents: passport or ID card. For corporate clients Altajir Bank will ask to provide corporate documentation as well as information about controlling persons. Altajir Bank may request additional documentation or information depending on the case.
Altajir Bank delivers its products and services via indirect (offline) channels only, namely:

branch
Guarantee Fund
none
Protected Amount
0 KYD
Eligible Depositors
none
Covered Accounts
none
There is no deposit guarantee scheme in the Cayman Islands: in the case of Altajir Bank failure its depositors will not get any compensation.
Contacts
93 Hospital Road, George Town, KY1-1107, Grand Cayman, Cayman Islands
691
+1 345-749-5628
+1 345-949-6339