N26 Bank was founded in 2013 and launched its first product in 2015. N26 Bank GmbH is a new innovative German bank, focused on offering retail banking products and services online. N26 Bank provides current accounts, payment cards, consumer loans to private individuals, freelancers and self-employed professionals. N26 Bank Gmbh operates as a branch of N26 Bank GmbH (Germany).
Bank Category
Branches of foreign banks
Clients
Area Served
Austria
Belgium
Denmark
Estonia
Finland
France
Germany
Greece
Iceland
Ireland
Italy
Liechtenstein
Luxembourg
Netherlands
Norway
Poland
Portugal
Slovakia
Slovenia
Spain
Sweden
Switzerland
United Kingdom
United States
current accounts
savings accounts
time deposit accounts
debit cards
credit cards
consumer loans
car loans
International Transfers
SEPA Credit Transfers
SEPA Instant Transfers
SEPA Direct Debits
See Also
Becoming a client of N26 Bank Gmbh can be done in a few steps: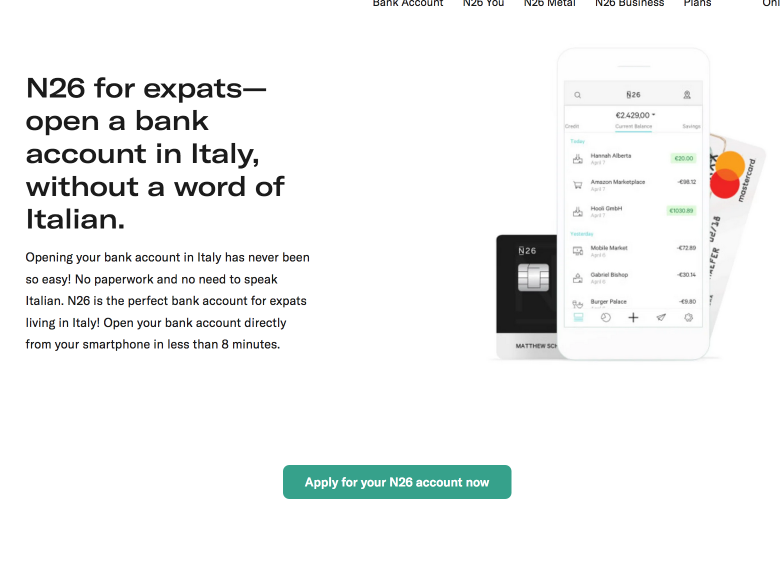 1.
Completely online
2.
Account is ready within a few minutes
Due to regulatory requirements N26 Bank Gmbh performs KYC/AML checks when establishing business relationships with a new client. While onboarding a private individual N26 Bank Gmbh will ask him/her to provide the following documents: passport; proof of address. For corporate clients N26 Bank Gmbh will ask to provide corporate documentation as well as information about controlling persons. N26 Bank Gmbh may request additional documentation or information depending on the case. Account opening procedure is usually completed within a few minutes.
N26 Bank Gmbh delivers its products and services via direct (online) channels only, namely:

mobile app
Guarantee Fund

Entschädigungseinrichtung deutscher Banken GmbH (EdB)
Protected Amount
up to 100,000 EUR
Eligible Depositors
individuals
companies

Covered Accounts
all deposit accounts

N26 Bank Gmbh participates in the deposit guarantee scheme of Germany. This deposit guarantee scheme applies to all deposit accounts made by individuals, companies and covers up to up to 100,000 EUR per bank per depositor. N26 Bank Gmbh is a member of Entschädigungseinrichtung deutscher Banken GmbH (EdB) and makes its contributions into it.
Contacts
VIA POLA, 11, 20124, MILANO, Italy
N26 Bank Gmbh is located in MILANO.