Dukascopy brand was launched in 1998 to research, develop, and implement a complex financial system via novel mathematical and econophysical techniques. Over the twenty years Dukascopy has been developed into an international financial group, providing online and mobile trading, banking and payment services to individuals, companies and institutions worldwide. Established in 2010, Dukascopy Bank is a Swiss innovative online bank focused on providing Internet based and mobile trading services, banking and other financial services through proprietary technological solutions. Dukascopy Bank also exercises consolidated supervision over Dukascopy Group entities, ensures adequate liquidity, risk diversification and capital adequacy at the group level.
Bank Category
Stock exchange banks
securities trading
forex trading
CFD trading
crypto-assets trading
white-label solutions
wealth management
Clients
private individuals
financial institutions
Area Served

Worldwide
current accounts
credit cards
International Transfers
SEPA Credit Transfers
SEPA Instant Transfers
SEPA Direct Debits
See Also
Becoming a client of Dukascopy Bank SA can be done in a few steps: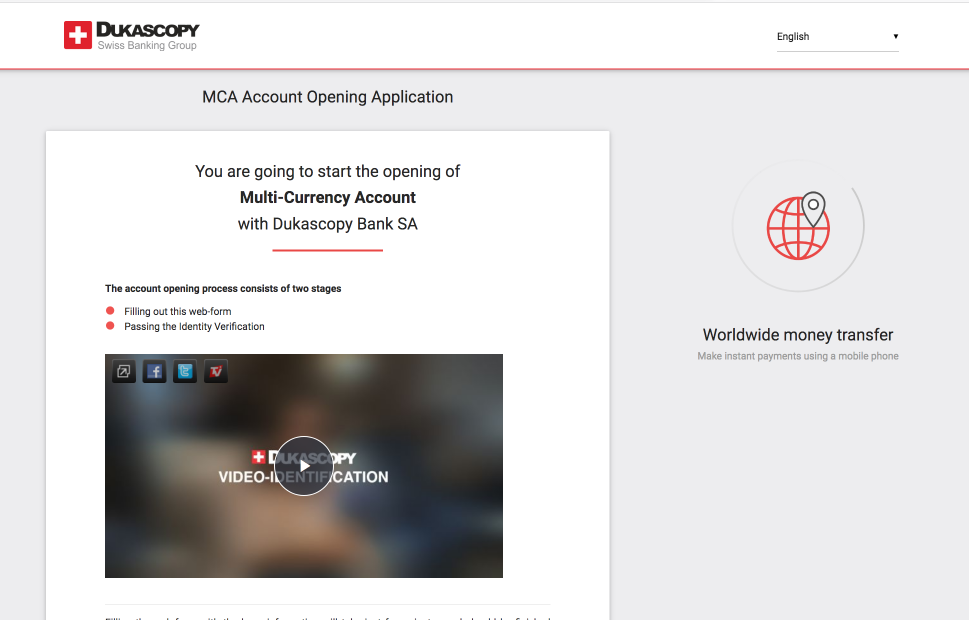 1.
Submit online application
2.
Upload documents
3.
Verify your identity
4.
Account is ready within 1 day
Due to regulatory requirements Dukascopy Bank SA performs KYC/AML checks when establishing business relationships with a new client. While onboarding a private individual Dukascopy Bank SA will ask him/her to provide the following documents: passport; utility bill. For corporate clients Dukascopy Bank SA will ask to provide corporate documentation as well as information about controlling persons. Dukascopy Bank SA may request additional documentation or information depending on the case. Dukascopy Bank SA performs client's identity verification via one of the following methods: video call, selfie + documents. Account opening procedure is usually completed within 1 day.
Dukascopy Bank SA delivers its products and services via direct (online) channels only, namely: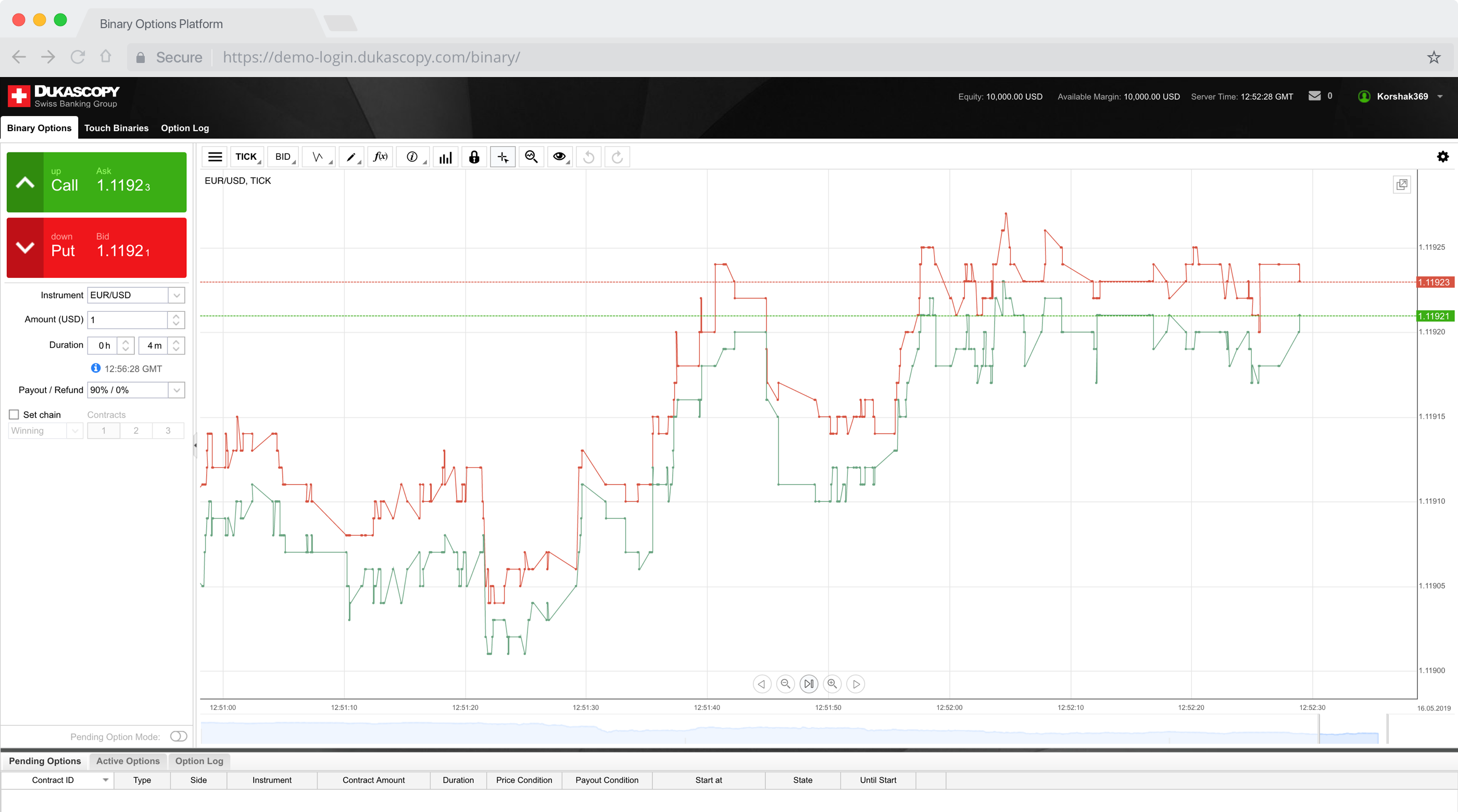 online banking

desktop app

mobile app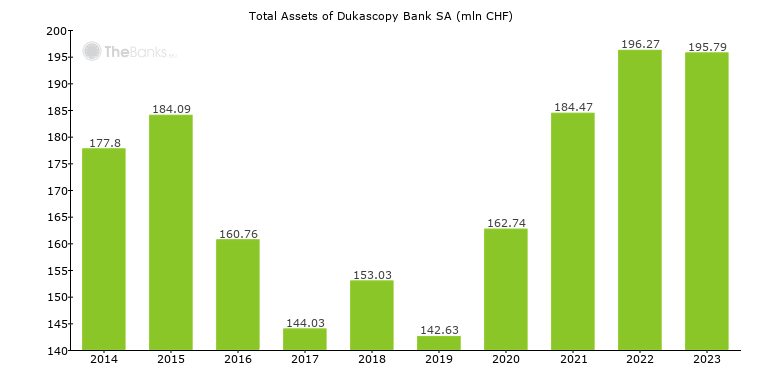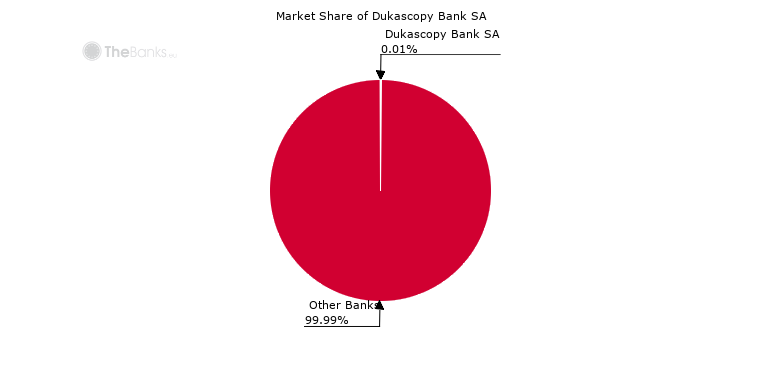 Total Assets (2019)
142.63 mln CHF (-6.80%)
Dukascopy Bank SA is the 220th largest bank in Switzerland in terms of total assets. In 2019 its total assets were 142,63 mln CHF, providing the bank with the market share of 0.00%. Dukascopy Bank SA is the 34th largest stock exchange bank in Switzerland (out of 42 stock exchange banks) having market share of 0.06% amongst the banks of this category.
Guarantee Fund

esisuisse – Deposit Insurance (ESI)
Protected Amount
up to 100,000 CHF
Eligible Depositors
private individuals (Swiss and foreign)
legal entities (Swiss and foreign)

Covered Accounts
credit balances

Dukascopy Bank SA participates in the deposit guarantee scheme of Switzerland. This deposit guarantee scheme applies to credit balances made by private individuals (Swiss and foreign), legal entities (Swiss and foreign) and covers up to up to 100,000 CHF per bank per depositor. Dukascopy Bank SA is a member of esisuisse – Deposit Insurance (ESI) and makes its contributions into it.
Contacts
Route de Pré-Bois 20, 1215, Meyrin, Switzerland
022 799 48 88
022 799 48 80
Dukascopy Bank SA is headquartered in Meyrin.
Social Networks
Dukascopy Bank SA has profiles at the following social networks: