Deposit taking institutions offer a broad range of deposit accounts to their clients varying in maturity, withdrawal conditions and interest rates. According to ECB statistics, the most of the deposit contracts have maturity less than 1 year. This page provides information on nominal deposit rates (quoted in deposit contracts) with agreed maturity up to 1 year in local currencies.
When estimating income from a deposit, the following should be taken into account:
withholding tax: withholding tax is imposed on the interest gained from the deposit; withholding tax rates depend on a particular country as well as on the depositor's residency, see Compare Countries by Withholding Tax;
bank charges and fees: for example, a bank may charge a depositor for opening an account, maintaining the account;
inflation rate: real deposit rate can be calculated using expected inflation rates.
To roughly estimate the reliability of deposits in a particular country, the following two parameters are provided:
maximum protected amount: the maximum amount covered by a deposit guarantee system in the country, see Deposit Guarantee Schemes in Europe;
Moody's country ceilings for deposits: it is a highest rating assigned to a bank or other deposit-taker domiciled in this country.
[1] Deposit rates are agreed annualised deposit rates of new deposit contracts with agreed maturity up to 1 year between credit institutions and households, the data are provided by European Central Bank

, March 2020.
[2] Estimated annual percentages of average consumer prices in 2017, the data are provided by International Monetary Fund

, World Economic Outlook.
[3] The data are provided by National Central Banks and Deposit Insurance Organizations.
[4] Moody's country ceilings for deposits (as of September 02, 2016) specify the highest rating that can be assigned to local- or foreign- currency denominated deposit obligations of a bank or other deposit taking institution domiciled within that country. Because the deposit rates are given for local-currency contracts, Moody's country ceilings for local currency are provided.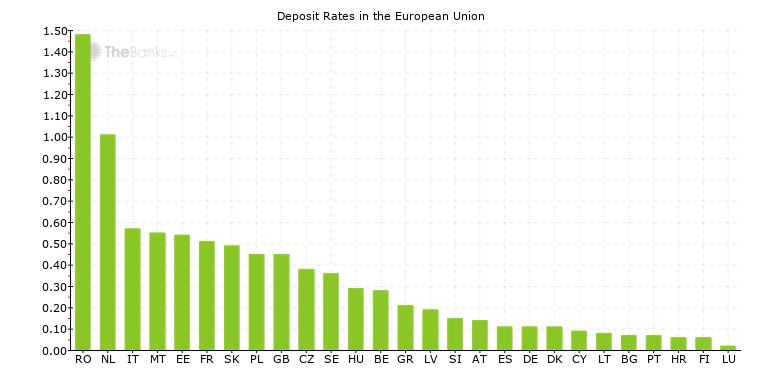 Chart 1. Deposit Rates (March 2020) in the European Union. Source: ECB.