Financial Services
Financial sector of Guernsey is focused on providing the following financial services:
offshore banking
fund management
Banking Focus
Banks in Guernsey are mainly focused on the following areas:
private banking
wealth management
wealth management
Banking Supervision
Guernsey Financial Services Commission
Banking Sector Structure
Number of Banks
23
Consolidated Assets (2016)
Currently there are 23 credit institutions operating in Guernsey.
In 2016 consolidated banking assets in Guernsey were 119.72 bln GBP. The consolidated banking assets' evolution is shown at Chart 1 below.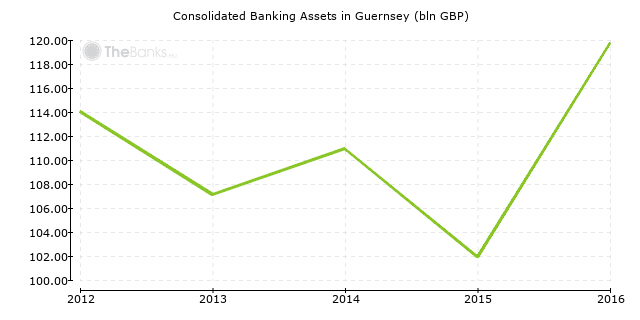 Chart 1. Consolidated banking assets in Guernsey.
All the credit institutions operating in Guernsey can be classified into several categories. Table 1 summarises the number of banks in each category.
| Category | Number of Banks |
| --- | --- |
| Banks | 9 |
| Branches of foreign banks | 14 |
Deposit Guarantee Scheme
Maximum Protected Amount
50,000 GBP
Deposit guarantee scheme is a financial stability mechanism implemented in many countries to protect bank depositors against the loss of their deposits in the case when a bank is unable to meet its obligations to depositors by compensating certain deposits held by depositors of the bank. This compensation is paid out from the contributions which banks have made into a deposit guarantee fund.
From a depositor's point of view it is important to know:
if the depositor is eligible within the terms of the deposit guarantee scheme;
if the depositor's bank is a participant in the deposit guarantee scheme;
if the depositor's type of deposit is covered by the deposit guarantee scheme.
All these details about deposit guarantee scheme in Guernsey are summarised in Table 2.
Maximum Protected Amount
50,000 GBP
Scheme Participants
all credit institutions operating in Guernsey (including branches of foreign banks)
branches of Guernsey's banks abroad

Eligible Depositors
natural persons
trustees of a Guernsey Retirement Annuity Trust
Guernsey-registered charity
sole traders
partnerships

Non-Eligible Depositors
companies

Covered Accounts
deposits by a natural person for his own benefits
account held by a parent for the benefit of his/her child

Table 2. Deposit guarantee scheme in Guernsey.
Further Information
Country Ceiling for Deposits
Moody's country ceilings for deposits specify the highest rating that can be assigned to local- or foreign- currency denominated deposit obligations of a bank or other deposit taking institution domiciled within that country.
Local Currency (Pound sterling)
-
Foreign Currency
Aaa (prime)
Foreign currency deposit ceiling for Guernsey is Aaa (prime).