Trustpilot Rating
Reviews 25,719 | Excellent
(9.0)
Business Focus
international money transfers
Products
international payments
international payrolls
Clients
natural persons
business entities
Azimo Ltd is an electronic money institution focused on international money transfers. Azimo Ltd offers international payments, international payrolls to natural persons, business entities.
Money Transfers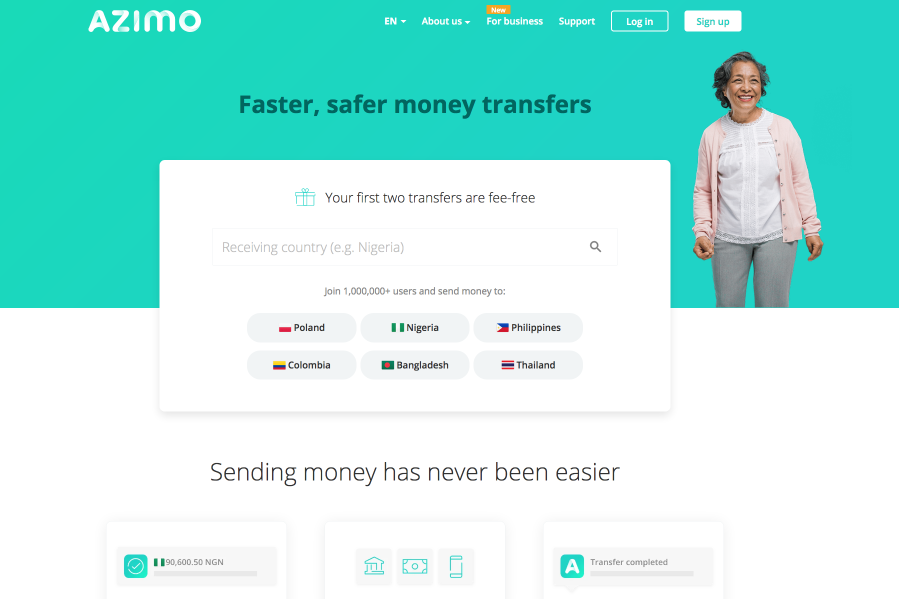 Currencies
150+ currencies
Sending From
bank account
debit card
credit card
Receiving To
bank account
mobile phone account
cash pick-up points
Transfer Speed
On average, a transfer with Azimo takes one working day.
The delivery time of a transfer may vary depending on:
the country the money is being sent to,
the chosen delivery method
and the way a sender pays for the transfer.
Payments done by card are a much faster option, as they only take a few minutes to reach Azimo's account.
In order to transfer money quickly, Azimo holds funds in most currencies around the world which means that it can send money instantly to 60+ countries.
Sending Countries
Azimo allows to send money from 25 countries, namely:


United Kingdom

Sweden

Norway

Denmark

Switzerland

Poland

Austria

Belgium

Cyprus

Estonia

Finland

France

Germany

Greece

Ireland

Italy

Latvia

Lithuania

Luxembourg

Malta

Netherlands

Portugal

Slovakia

Slovenia

Spain
Receiving Countries
Azimo allows to send money to more than 195 countries.
Sending Methods
Azimo offers the following sending methods: Bank Account A sender needs to transfer the full amount from his/her own bank account into Azimo's bank account. This can be done through online banking, calling the bank, or visiting the bank's branch in person.
Personal Debit and Credit Cards
A sender should be using his/her personal card, so that the name on the card should match the name on his/her Azimo account
The maximum sending amounts for card payments is around 13,500 EUR
Azimo do not accept the following card types:

Prepaid cards
Virtual cards
American Express
Miles & More
Receiving Methods
Azimo offers the following receiving methods: Bank Account Direct to bank is a transfer when the money is delivered straight to the recipient's bank account in local currency.
Mobile Top-up Mobile top-up is a transfer where a sender can add credit to the recipient's local mobile number. Mobile top-ups are usually processed within minutes. Mobile Wallet A mobile wallet is an electronic wallet that allows to store, send and receive money on a cleint's mobile phone. Cash Pick-up Cash pick-up is a transfer when the transfer's recipient can collect as physical cash from over 200,000 secure pick-up locations around the world.
Home Delivery Home delivery is a transfer where the money is securely delivered straight to the recipient's door within 24 hours.
Transfer Completion
Once a transfer is completed, the sender will receive an email confirming that it has reached the recipient's bank, or has been collected, in the case of cash pick-up. The status of the transfer will also change in the sender's transfer history.
Advantages of Azimo Transfers
•
Fast transfers to 195+ countries
•
Available for individuals and business entities
•
Variety of receiving options
•
Variety of sending options
•
First two transfers are fee-free
Disadvantages of Azimo Transfers
•
Sending money available from Europe only
•
May not be the cheapest option
Alternatives to Azimo Transfers
See Also
Operations with Cryptocurrencies
No
Azimo do not conduct operations with cryptocurrencies.
See Also
Mobile Applications *)

Azimo - Request and receive
4.5, 185 Ratings
*) Based on the information from Apple App Store.
Company Details
Country of Registration

United Kingdom
Authorized By
Financial Conduct Authority
Authorized Activities
Azimo Ltd is authorized by the Financial Conduct Authority (reference number 900220) for money remittance.
Due to EEA passport rules Azimo Ltd, can conduct its activities in any of the 31 EEA member states. Azimo Ltd do not participate in deposit guarantee schemes.
Contacts
Upper Street 173, N1 1RG, London, United Kingdom
Website Languages

German

Spanish

French

Italian

Dutch

Polish

Portuguese

Romanian

Russian
Similar EMIs

Currencies Direct Limited (United Kingdom)
currency and money transfers

UAB DEVERE E-MONEY (Lithuania)
international money transfers

Digital Capital Ltd (United Kingdom)
providing payment solutions

Ebury Partners UK Ltd (United Kingdom)
providing international payments for business

Ecommbx ltd (Cyprus)
providing seamless payment platform

Euro Exchange Securities UK Ltd (United Kingdom)
international money transfers and currency exchange
See Also